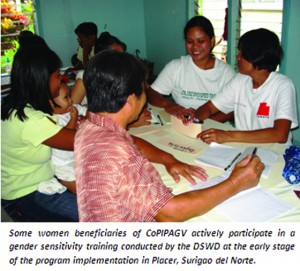 BUTUAN CITY – The Department of Social Welfare and Development (DSWD) Caraga will conduct a Regional Learning Assembly on June 10, 2011 at Almont Hotel's Inland Resort. This will be participated in by the different beneficiary municipalities and cities of the Comprehensive Pilot Intervention Plan Against Gender-Based Violence (CoPIPAGV).
The keynote speaker of the activity is former Representative Risa Hontiveros.  Ms. Bella Fernandez, Program Manager for Social Development, AECID, Gov. Sol Matugas, Mayor Librado Navarro and Governor Johnny Pimentel will also grace the occasion.
The major activities of this assembly will be the presentations of best practices in the PREVENTION, INTERVENTION and REINTEGRATION components. For the prevention component, best practices are the radio program and VAW training for DepEd, trainings for IP Women, curriculum integration in DepEd, and VAW orientation for schools through theater. For the intervention component, best practices identified are the implementation of MIACAT plans, paralegals at work, enhanced services of the RHU, use of sexual assault investigation kit and enhanced services of the WCPD. The best practices for the reintegration component are the new beginnings for VocTech scholars and the LGUs contribution for VocTech scholars.
The CoPIPAGV is a 3-year project and hopes to improve the health conditions of women, adolescents and girls through improved prevention, assistance and reintegration of victims/survivors of Violence against Women (VAW) in the CARAGA Region. This is a joint project of the DSWD and Agencia Española de Cooperacion Internacional para el Desarollo (AECID). # # # (Social Marketing Unit)