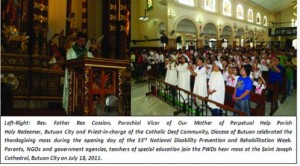 BUTUAN CITY– The Caraga Regional Committee on Disability Affairs chaired by the Department of Social Welfare and Development recently celebrated the 33rdNational Disability Prevention and Rehabilitation Week with the theme "Making the Rights Real for Filipinos with Disabilities."
The celebration started with a mass at the Saint Joseph Cathedral, followed by a motorcade around the city and opening program at the city hall lobby. After the opening program, the Comelec conducted the registration of Persons with Disabilities (PWDs).
On July 20-21, the Technical Skills and Development Authority (TESDA) and Department of Labor and Employment (DOLE) will conduct skills training to persons with disabilities.
On July 21, the Department of Health (DOH) is also set to conduct the Disability Clinic and Media Forum while the celebration will culminate with the general assembly of the PWDs on July 22 and the talent show of PWDs.
The Provincial Government of Surigao del Sur thru the Office of Provincial Social Welfare & Development (PSWD) spearheaded the General Assembly of the Provincial Federation of Persons with Disabilities in Surigao del Sur today, July 19 at Shacene Pension House, this city.
During the assembly, DSWD Program Coordinator Wilma Geralla discussed the legal rights of Persons with Disabilities (PWD as mandated under Republic Act # 7277 otherwise known as the "Magna Carta for Persons with Disabilities."  # # # (Social Marketing Unit)