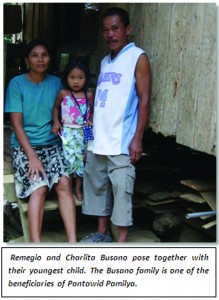 "Life has gotten really better for us under the Pantawid Pamilyang Pilipino Program, even with my co-members I can see they have also improved – economically and even personally because of the Family Development Sessions (FDS), we were taught how to become better parents, wives and even better persons, and I'm very thankful for it."
EL RIO, Sibagat, Agusan del Sur – The FDS is a monthly activity undertaken by the beneficiaries of the Pantawid Pamilyang Pilipino program (Pantawid Pamilya) to expand their knowledge and enhance their skills on parenting and help them appreciate and comply with the conditions of the program regarding health and education. The Pantawid Pamilyang carries out this activity because it recognized that the role of parents in helping their children achieve their health and educational goals is very crucial.
Julieta Busano said that they have been taught personality development, responsible parenting and given very helpful tips on how to improve household management and practical budgeting. It has helped her improve her bearing in public and her confidence in approaching people, unlike before where she just used to stay in one corner during meetings and activities in the community.
"We are very thankful to have been chosen as one of the beneficiaries of the program. It was an answered prayer for our family," say Julieta Busano.
Before the program came to our place, there were no seminars like these for us. I could not even remember any single session of this kind. I am really grateful that the program also includes the FDS because I have learned a lot from it.
Julieta actively attends every meeting and activity undertaken, bearing in mind that this program would really help send her children to school and would necessitate her to bring her small ones to the Health Center for regular check-up thus ensuring their good health. She believes that through good health and education, her children would succeed and never have the life that they have now.
She receives a monthly grant of 1,100, which she carefully budgets, prioritizing the educational needs of her children. She also happily shared to us the time when she bought complete sets of school supplies for her kids, also additional vitamins, milk, new dresses and sandals. She now pays promptly the school fees, which she cannot do before.
Before they became beneficiaries, the couple said it was very hard for them to provide for their 8 children. Oftentimes the family income is not enough considering they have many mouths to feed, clothe and send to school. Back then they were living on a shanty where food source became scarce. Sometimes they would not eat rice or corn and settle for cassava or yam instead.
Her husband, Remegio, is the sole bread winner of the family who tills their small corn field, catches fish on the nearby river, plants root crops and vegetables just to suffice with their daily consumption and education needs of their children.
With the educational and health expenses taken care by the Pantawid Pamilya, they have saved much from their income and even have invested on some small livelihood projects. Recently they were selected as beneficiary of DENR Agroforestry Project – a government funded project that gives livelihood support through agriculture investment. The fund is not fully given yet, so they spent some savings to get on with the complete planting of rubber seedlings with a waiting period of five (5) years in one and a half hectare land.
Even with this agroforestry project they have started; Julieta still expresses her desire to have a permanent livelihood activity someday. She hopes that time will come when her family would no longer depend on government's aid. ### (Social Marketing Unit)