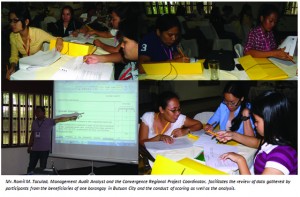 BUTUAN CITY – The Department of Social Welfare and Development Caraga Region recently conducted a training to develop the knowledge, skills and attitudes of the support staff of the Pantawid Pamilyang Pilipino Program and Convergence Strategy in the administration, scoring and analysis of the Social Welfare Indicators (SWI).
Conducted at a hotel in this city, the training was done in two batches. The participants learned the training modules on the 1) historical background of the SWI 2) the social welfare indicators (SWI) 3) a guide in accomplishing the SWI 4) the application of the SWI 5) field demonstration of the SWI and 6) processing.
Mrs. Mercedita P. Jabagat, regional director for the Caraga region said the SWI was first developed by the Ministry of Social Services and Development (MSSD) in 1980 under the Deputy Minister Sylvia P. Montes. It was done based on a study of field workers' experiences in assisting individuals and needy families uplift to a level their lives from stagnation and degradation to a level befitting dignified human beings.
Jabagat added that to measure the progress of upliftment, the MSSD identified three levels of family well-being.  These are Survival, Subsistence, and Self-Suffiency. There are two major indicators of well-being – economic sufficiency and social adequacy.
The economic sufficiency is measured by three variables –employment, income and social security membership. Social adequacy is measured by eight main variables – health, nutrition, sanitation, hygiene, housing and other living conditions, educational status of household members, social-cultural, and role performance.
Then, the score matrix is used to determine the level of well-being of client/household by getting the average of the actual scores of the indicators.
The succeeding years lead to the institutionalization of the case management system and SWI. With the passing of time, however, the social/family welfare indicators were set aside as more tools were developed by other institutions relative to the anti-poverty programs such as the community-based management system (CBMS) and the minimum basic needs (MBN).  The MBN was primarily developed by DSWD as part of the Comprehensive and Integrated Delivery of Social Services (CIDSS) scheme under the social reform agenda of President Fidel Ramos.
In the light of the implementation of the Pantawid Pamilyang Pilipino Program wherein the improvement of the living conditions of the beneficiaries is now slowly seen, there is really the need to have a thorough case management of these beneficiaries.
In her memorandum issued to all field offices of the DSWD, Secretary Corazon Juliano-Soliman  said that administration, scoring and the analysis of the SWI must be finished on or before the month of October ends.
"We hope to finish the said activities before the deadline," says Jabagat. ### (Social Marketing Unit)