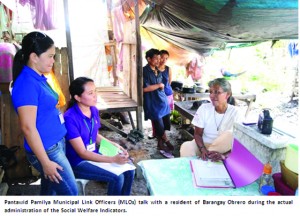 BUTUAN CITY – The Pantawid Pamilya Municipal Link Officers (MLOs), SEA-K Project Development Officers (PDOs), and Convergence PDOs assigned in Agusan provinces attended the 3-day roll-out training on social case management held at Balanghai Hotel, Butuan City on August 8-13, 2011.
In the light of the implementation of the Pantawid Pamilyang Pilipino Program where the improvement of the living conditions of the beneficiaries are slowly seen, there really is the need to have a thorough case management.
The said activity was done in order for the field workers to familiarize about the Social Welfare Indicator (SWI), a tool that will help them identify their client's needs, which will be the basis for intervention planning. The activity also trained the field workers as case managers on how to establish relationships, assess complex problems, and select problem-solving interventions and help clients function effectively.
Part of the training was the participants' exposure to the field to administer SWI in baranagy Obrero and Doongan in Butuan City.
"The activity is very significant to us; it help us understand the interviewing process and shows us the different techniques to effectively conduct the SWI." says Jay Tejada, Pantawid Pamilya MLO of San Luis, Agusan del Sur. A total number of 123 participants attended the activity.
Earlier, the workers assigned in Surigao provinces and Dinagat Islands also underwent the same training at Almont Beach Resort Hotel in Surigao City.  In her message, Director Mercedita P. Jabagat emphasized that all workers must be knowledgeable about all the systems  employed by the Pantawid Pamilyang Pilipino Program – Beneficiary Update System, Grievance Redress System, and Compliance Verification System.
Director Jabagat also encouraged the workers to be committed and competent in carrying out their responsibilities to be able to serve the people efficiently and effectively.  # # # (Social Marketing Unit)