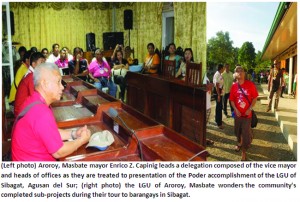 BUTUAN CITY – A sixteen-member delegate from the local government unit of Aroroy, Masbate headed by the municipal mayor, Enrico Z. Capinig visited Caraga region for a two-day cross-learning of the Department of Social Welfare and Development's (DSWD) two (2) anti-poverty programs, KALAHI-CIDSS and Poder, September 14-15.
With news of the successful implementation and best practices of the field office, the LGU identified Caraga and heard success stories from volunteers.
The visit is (really all) about learning from each other. It was a pleasure to hear from the volunteers themselves that they are as pleased as we are to share their experiences with us, mayor Capinig enthused.
Likewise, the delegation conducted a dialogue with the LGUs of Sibagat, Agusan del Sur and Hinatuan in Surigao del Sur and was treated to a presentation that gave a glimpse of the five (5) years of the implementation of the anti-poverty programs in their respective towns.
Both regions are fortunate to have availed the community-driven development (CDD) projects of DSWD, KALAHI-CIDSS and Poder so it is just fitting that we are visiting Caraga, added mayor Capinig referring to the fact that only regions 5 and Caraga throughout the country is implementing both anti-poverty programs of the government.
This is a wonderful experience (to us) and two days are not enough to catch up with all the best practices, lessons learned, and success stories from both the LGU and the volunteers. Corollary to this visit would have to be that we will be able to anticipate and avert certain constraints in the implementation process, he added.
The Regional Project Manager, Mita G. Lim could never be prouder that the efforts of the department are greeted with praises from the LGU.
We surely will be bringing a lot of stories when we get back to Masbate and share this to all the LGUs there, the leader concluded. ### (Social Marketing Unit)