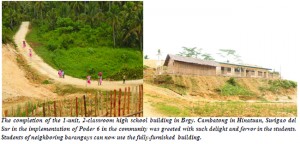 BUTUAN CITY– Addressing the common service needs of people in far-flung communities in Caraga region is one herculean task and add to it a daunting mission of ending poverty by 2015, the government must have been asking for divine intervention.
However, Filipinos can worry less for now thanks to the Department of Social Welfare and Development's (DSWD) anti-poverty program called Poder.
The nearest thing the community can witness of a deus ex machinaphenomenon is Poder's developmental intervention from the Spanish government through the Agencia Española Cooperacion Internacional para el Desarollo (AECID) which funded a total of Php 26,462,317.45 infrastructure projects in the region.
With the government adopting the tested conditional cash transfer (CCT) program of Latin America in 2007 and the need to increase its beneficiaries to cover the poorest segment of society, there has been a surging demand to complement the Pantawid Pamilya program of a supply side – erecting school buildings, health stations, day care centers, and health stations.
Employing the community-driven development (CDD) program of another poverty alleviation program of the government called KALAHI-CIDSS or Kapit-Bisig Laban sa Kahirapan – Comprehensive and Integrated Delivery of Social Services, AECID officials saw it appropriate that the same process should be used if the communities were to address the issues confronting the Pantawid Pamilya beneficiaries and non-beneficiaries alike.
Improving access to basic health and education services
Poder comes in the scene to an act of changing its course –  adopting the KALAHI-CIDSS' framework of an "open menu" of infrastructure sub-projects since 2005, Poder favored catering the supply side of the Pantawid Pamilya program in its fifth and sixth year of implementation by improving the basic health and education services in the community.
This system proved to be a successful endeavor for both DSWD and AECID as this will not only help the government attaining the Millennium Development Goals (MDGs) by 2015 – eradicating extreme poverty, achieving universal primary education, reducing child mortality, and maternal health – but this will also continue a sense of ownership of the sub-projects in the community through the CDD technology.
With a total of 2,779 direct Pantawid Pamilya beneficiaries, Poder 6 completed a total of 25 sub-projects now ready for use in four depressed towns in Caraga. This includes the municipalities of Hinatuan, Surigao del Sur; Sta. Josefa, Agusan del Sur; Sta. Monica, Surigao del Norte; and Tubajon, Province of Dinagat Islands.
A sense of ownership through empowerment
For volunteers in these four towns, the CDD technology ushered a new dawn in developmental intervention which is traditionally implemented by the LGU. However with Poder, the grassroots in the barangay level are the ones carrying out the implementation in a period of one year while receiving capability-building trainings in procurement, finance, and engineering.
The project ensures a bottom-up approach that the idea of answering certain needs springs from the community.
Poder is the Spanish term for empowerment and the project is hinged in its three objectives: empowering local communities in that the poorest barangays are given access to and control of key development decisions; enhancing local governance through setting highly transparent mechanisms in the development process; and ultimately reducing poverty through funding of barangay-level infrastructures and common service facilities that improve access to basic social services. # # # (Social Marketing Unit)