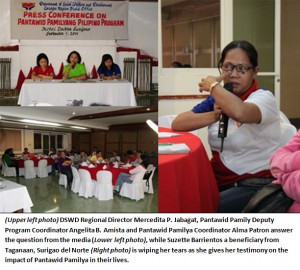 Surigao City – The Department of Social Welfare and Development (DSWD) Caraga conducted a Pantawid Pamilyang Pilipino Program Press Conference with Surigao De Norte's media members held on September 1, 2011 at Tavern Hotel, Surigao City.
The Press Conference was attended by 10 members of the media from Surigao del Norte Province, 3 beneficiaries from Malimono and Taganaan, Surigao del Norte and 10 from the Regional Project Management Office.
DSWD Dir. Mercedita P. Jabagat, Pantawid Pamilya, Deputy Program Manager Angelita B. Amista and Project Coordinator Ms. Alma Sy-Patron, answered the questions asked by the media and also presented the status of the implementation of the program in Surigao del Norte. Director Jabagat, in her opening statement during the press conference also talked about the convergence strategy of the three core programs of the department. These programs are the KALAHI-CIDSS, Pantawid Pamilya and Self-Employment Assistance-Kaunlaran.
Pantawid Pamilya beneficiaries also gave testimonies on how the program made an impact in their lives. "Before, my children would  make use of what we  can only afford. We seldom buy them school supplies and it was painful to me seeing them used a two-inch pencil to write. Life was so hard. With Pantawid Pamilya now, I already bought them a box of pencils and their school dues are paid on time," teary-eyed Suzette Barrientos said,  Pantawid Pamilya beneficiary from Taganaan, Surigao del Norte. Suzette also added that they are always looking forward to their monthly Family Development Session in which they are taught on how to become more effective parents. While
The Press Conference was conducted in order to address issues and concerns in the province and also to give update about the implementation of the program. # # # (Social Marketing Unit)