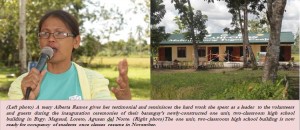 Loreto, Agusan del Sur – For a 36-year old elementary teacher, life is a matter of choice and with that sacrifices are bound to happen.
This was what Alberta Ramos has realized in her one year voluntary work serving as the barangay sub-project management committee (BSPMC) chair of the KALAHI-CIDSS Makamasang Tugon project of the Department of Social Welfare and Development (DSWD).
According to her, life was hard in a remote area to begin with but volunteerism is another thing. She was introduced to another kind of initiation in life – serving as a project leader.
It never occurred to her that as a woman, she would one day lead her community in putting together what was a year of community trainings into a new high school building.
Before this, "as a mother and elementary teacher, it pains me to see my previous students from my village walking (others with no shoes or slippers on) an impassable 3-kilometer road in order to get to a high school in another barangay," she was quoted saying in Cebuano.
That realization made a pivotal moment in Alberta's rural life. Since then, she made it a promise that these students will never have to trouble themselves in reaching their school. Actually, she just made it better for them. The high school building was erected in their village.
"It was never easy for me. I was presented to a whole new world of community financing, project development workshops, and even engineering works. But someone had to do it and in my community, it was me who led them," she added.
But with this blessing, an unforeseen tragedy made a short visit. A swift, tremulous visit it was. The high school building was nearing completion then when her relatives phoned her from her hometown in Bohol. She learned that her mother was in the hospital and was very ill and that she needed to come home.
Choices would have to be made and she chose to stay. Not that she considered health as trivial as trimming one's hair in times of despair, but hers was a call of duty she sealed her year with. She didn't leave for the demanding work that was tied up with building her promise.
It was only when the building was completed that another person's life was also completed. She learned of her mother's demise when she was on her way to her hometown. But she never resorted to the theatricality of it and instead accepted her fate.
A peculiar tinge of acceptance and pride common to leaders is apparent in her voice, "there comes a time in our lives that we have to make sacrifices in order for other good things to usher in. I am thankful of my mother because she passed her courageous spirit unto me. "
The trainings that Alberta acquired from KALAHI-CIDSS is priceless she said. "It is one unique project that I ventured into. I may have encountered problems along the way but it proved to be catalysts for me to persevere," she explained.
With the construction of a one unit, two-classroom high school building in Brgy. Magaud, Alberta will be proud to see her previous students become professionals in the years to come.
She professed that "the new high school building will breathe my mother's memory. It will remind me of my mother's valiant heart and that is enough remembrance of her. It's like a year of effort and the death of my mother were consummated when the foundation of this building was laid."
What Alberta did for her community was something that one could only hear of heroes and leaders. "Owning a high school building in our village is like winning the grandest prize there is in the world. I only have one more wish if I had to stretch this fortune and that is for parents and teachers to take care of the students as much as I dreamt of providing them a second, nurturing home. " ### (Social Marketing Unit)