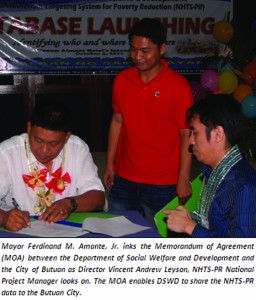 BUTUAN CITY – All national government agencies are directed to use the NHTS-PR as a mechanism in identifying beneficiaries of the social protection programs of the government.
"It is through this order that DSWD is able to share the NHTS-PR data with the PhilHealth and Department of Health by forging a Memorandum of Agreement (MOA) with the respective agencies," said Director Vincent Andrew Leyson, NHTS-PR National Project Manager.
Executive Order 867 was signed by former President Gloria Macapagal-Arroyo on March 9, 2010.
Aside from these national agencies, there are also local government units (LGUs) who signified to use the NHTS-PR data. One of these LGUs is Butuan City.
Honorable Ferdinand M. Amante, Jr., mayor of Butuan City signed the MOA during the recently concluded NHTS-PR Database launch at a hotel here in Butuan City in time of the National Statistics Month (NSM) in October.  The DSWD lead this year's NSM celebration.
Besides NHTS-PR, the department has also embarked into collaborative efforts and strategies not only within the department but also with other stakeholders involved in social protection.
Leyson said that in recent years, the DSWD and other national agencies such as the National Economic Development Authority (NEDA), Department of Health (DOH), Department of Education (DepEd), Department of Agriculture (DA), and others have forged together to develop and adopt better strategies and frameworks in implementing social protection programs. # # # (Social Marketing Unit)