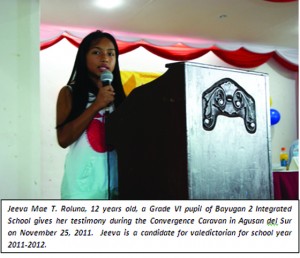 PROSPERIDAD, AGUSAN DEL SUR – In her testimony during the Convergence Caravan in Agusan del Sur on November 25, 2011, Jeeva Mae T. Roluna, 12 years old, shared her dream of becoming a lawyer.  As a graduating elementary student of Bayugan 2 National Integrated School, San Francisco, Agusan del Sur, she is a candidate for valedictorian this school year 2011-2012. With this academic achievement, there is no doubt she will become a lawyer someday.
Young as she is, Jeeva knows she is way far from realizing her dream.  This young girl, however, finds a ray of hope in Pantawid Pamilyang Pilipino Program.  Jeeva's family is one of the 46,112 poor families enrolled in the program in Agusan del Sur.
The program Pantawid Pamilya provides cash grants to eligible poor families for as long as they meet certain agreed conditions.
One of the objectives of the program is to encourage parents to invest in their children's and their own human capital through investments in their health and nutrition, education, and participation in community activities. In other words, Pantawid Pamilya is an investment in human capital.
Jeeva  thanked the government for initiating this program because the monthly cash grants they receive have been of great help in her and her siblings schooling.
For Jeeva, Pantawid Pamilya prepares her way in realizing her dream.  She said, she has been encouraged to strive hard and to do well in her studies because with Pantawid Pamilya, she is no longer bothered of where to get money for school projects and other school expenses.
She also expressed her desire to avail of scholarships, especially government scholarships to pursue her high school and college education, and eventually become a lawyer.  She even mentioned the scholarship given by the provincial government of Agusan del Sur and asked Congresswoman Evelyn Plaza Mellana to help the poor children including her in their studies through the said scholarship and through her continued support to the Pantawid Pamilyang Pilipino Program.
Despite her impoverish situation, Jeeva is full of hope that she will succeed in the future because the government has paved the way for her to get there.
Jeeva ended her testimony by saying "I hope Pantawid Pamilya will continue helping more poor people." ### (Social Marketing Unit)