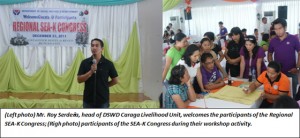 Butuan City – The Department of Social Welfare and Development (DSWD) Caraga Field Office hosted the Self Employment Assistance Kaunlaran (SEA-K) Congress on December 23, 2011 at Goat2geder Hotel and Restaurant, this city.
Dubbed as SEA-K Congress, 122 people attended the activity to include SKA presidents, treasurers and Project Development Officers (PDOs) from LGUs and DSWD
During the Congress, Mr. Roy Sardeña, Head of Livelihood Unit presented the status of SEA-K implementation in the region.
Serdeña said one of the targets of DSWD is to include the 10% or the 7,372 individuals of the total Pantawid Pamilya beneficiaries of set1 and 2 which is 73,718 in Sustainable Livelihood. He proudly announced that only Caraga region was able to accomplish 100% of its target and these members were already given capital assistance to start their business.
SEA-K in Caraga has covered 33 sets 1 and 2 Pantawid Pamilya municipalities. The program has already released P56,575,900.00 capital assistance to these municipalities for CY 2011.
As of December 20, 2011 SEA-K Level I has 745 SKAs organized with 16,220 members and a total of 78,180,064.00 capital assistance released with a recovery rate of 83%. While SEA-K Level II (KABAYAN) has 984 members, 19 SKAs were organized with 19,289,200.00 cash assistance provided.
Implemented by the DSWD in coordination with the Local Government Unit (LGU), SEA-K is a capability building and livelihood assistance program of the Philippine government that is directed towards the poor and disadvantage groups. The program involves a non-collateral and non-interest bearing capital loans. SEA-K enhances and promotes self-sufficiency of Filipino families by developing the socio-economic skills of poor families with the help of LGUs. It also aims to develop independent and resilient families that can cope with the changing times. # # # (Social Marketing Unit)