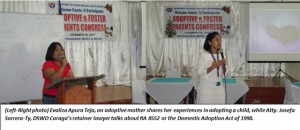 Butuan City – The Social Welfare Department in Caraga region recently hosted the Adoptive and Foster Parents Congress at Goat2Geder Hotel and Restaurant, Butuan City.
The adoptive and foster parents together with their children and individuals or couples who are about to adopt a child attended the said event.
Atty. Ty, DSWD's retainer lawyer, oriented the participants on R.A. 8552 or the Domestic Adoption Act of 1998.  She encouraged the participants who wanted to adopt a child to have it done legally. "The government does not immediately give a child to anybody because a child needs special care," said Atty. Ty as she explained why adoption is a long procedure.  "The road to adoption is challenging, but I tell you, it is very fulfilling." Atty. Ty added.
There was also a sharing of experience from adoptive parents. "It took us five (5) months to do it," said Evaliza as she started to share her experience of being an adoptive mother. Evaliza and her husband decided to legally adopt the child that they fostered for 5 months when the child got sick and was hospitalized and could not avail of Philhealth assistance because they do not have documents to prove that the baby is their child. "Though kuti kaayo, pero worth it ang tanan (though the process is tedious, it is all worth it) said Evaliza. Before she ended her testimony, Evaliza encouraged the participants to accept whatever is the behavior of the child they are about to adopt. The teary-eyed Evaliza said, "no matter how the child behaves, we have to accept him/her because with our acceptance, we also show our love to the child."
Ms. Aldie Mae A. Andoy, Social Officer III of DSWD Caraga gave inputs on Foster Care and presented the checklist of requirements for certification per RA 9253 "Declaring a Child Legally Available for Adoption."
In the afternoon, children enjoyed their social gathering as they were entertained by clowns from Mc Donald and enjoyed the games with prizes prepared for them. # # # (Social Marketing Unit)