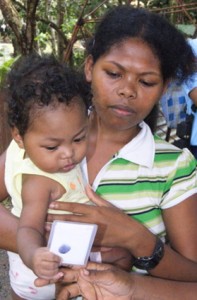 Tubod, Surigao del Norte- "Kung sa una, dinaginot ang pagtimpla sa gatas sa akong anak, karon dili na (I used to scrimp in preparing milk for my baby, but now I no longer do it)," shares Helen Macubahon from Barangay Timamana, municipality of Tubod, Surigao del Norte.
Helen Macubahon, a young Mamanwa mother at the age of 21 narrates the ordeal that her family has expereinced. Helen's husband, Noe Macubahon, 25 years old, works as a laborer that hauls falcata logs and earns a maximum of 250.00 and minimum of 150.00 a day. This small amount of money is not enough for a family of three, especially that they have a baby to feed.
Like other mothers, Helen also has a dream for her child to have a better future, a life that is completely different from what they have right now. She is worried she could not give this 'better future"  to her child.
Helen finds other ways to help minimize their expenses, "nagtanum pud ko og mga kamote, saging ug uban pang mga gulayon para among masud-an (I also plant sweet potatoes, banana and other vegetables)," shares Helen.  With this, they no longer have to spend for their viands. "Amo gayud na pa igoan ang sweldo sa akong bana ma'am, labaw na nga naa mi anak (We really have to budget my husband's income, especially now that we have our baby)," Helen said.
"Maski og magkalisud mi ma'am wala gayud kami nagmahay nga nagkaanak (Even though life is hard, we never regretted having baby Jepro)," said Helen while looking at her eight-month old baby that she cradled in her arms. She even boasted that baby Jepro has been receiving regular immunization in their barangay health center for free.
Helen and Noe became beneficaries of the  Pantawid Pamilyang Pilipino Program in 2010. Helen's family  is one of the 801 families in Tubod, Surigao del Norte that benefit the program.
"Ang akong anak gayud ang una nakong nahunahunaan pag-abot sa Pantawid Pamilya (My child is the first person that came to my mind when Pantawid Pamilya arrived in our town)." Helen thought that  with Pantawid Pamilya, she no longer have to scrimp her child's milk because she can now buy it togehter with the other things that baby Jepro needs.
Helen receives a monthly cash grant of 500.00 a month for her child's health and nutrition.
For others, P500.00 may be a small amount of money but for Helen and her family, with this amount they can already buy 2 boxes of baby's milk and diapers for their little angel, Jepro.
Pantawid Pamilya may not be the answer to Helen's financial problems, but it does respond to their immediate needs and somehow assist them especially in providing milk to baby Jepro. # # # (Social Marketing Unit)