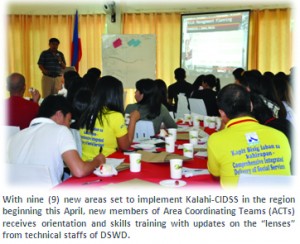 BUTUAN CITY – With the Kalahi-CIDSS scale-up in full swing this year, the Department of Social Welfare and Development (DSWD) has mainstreamed three new "lenses" to the project's implementation.
Meant to answer emerging issues that the country confronts, the DSWD has integrated three new lenses or frameworks in Kalahi-CIDSS. These are on gender lens, peace lens and integration of disaster risk reduction into climate change adaptation (CCA) in planning and decision-making.
In line with the continuous systems enhancement, the Kalahi-CIDSS shall promote active participation of both men and women in decision-making within the opportunities provided by project activities, and to ensure that both have equal access to and enjoy the benefits of project implementation.
Likewise, peace lens will be adopted to look for opportunities for building peace, peace trends, zones of conflict, and how peace is construed when talking about security and the potential impact of policies.
Lastly, the community-based disaster risk reduction into climate change adaptation framework will be adopted for full participation and contribution of volunteers for stronger, more resilient and more sustainable community.
"These "lenses" are part of the scaling-up implementation of Kalahi-CIDSS throughout the country until 2015," explained Assistant Regional Director Mita G. Lim. She said "these will help greatly in the holistic approach we employ in community-driven development projects such as Kalahi-CIDSS in response to prevalent social and environmental conditions in far-flung areas who are very susceptible to such problems."
Recently, new members of Area Coordinating Teams (ACTs) underwent a basic orientation on Kalahi-CIDSS and skills training, which also included the discussion on these new lenses. ### (Social Marketing Unit)