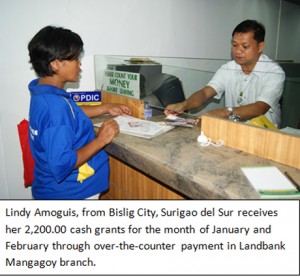 BUTUAN CITY – She walked fast to the side counter, carefully putting back the documents inside her plastic envelope making sure all things are intact, then, she carefully counts her money bills that the teller gave her. She is Lindy M. Amoguis, 36 years old, nine months pregnant and a mother of two children. Lindy is one of the 4,317 Pantawid Pamilya beneficiaries from Purok 6, barangay San Roque, City of Bislig, Surigao del Sur.
Before Pantawid Pamilya came to Bislig City, Lindy was worried what the future holds for her 2 children-Andressa, 12 years, Mae Ann Rose, 11 years old and for the baby that is still inside her womb. Lindy is due anytime this March. "Sometimes I am worried of the thought when the baby arrives; we have no money for vaccination, and check-up. Where will we get the money then, when we are already having difficulties meeting our daily consumptions," expressed Lindy. Her husband Danilo is a farmer and earns a maximum income of P3, 000.00 a month, which is not enough for a family of four.
In December 2011 Lindy saw a glimmer of hope when the local officials of Bislig City announced and posted the potential beneficiaries of the program in their respective barangays, she was overjoyed when she saw her name on the list.
Lindy said during one of their community assemblies, the Municipal Link Officer (MLO) presented to them the conditions of the program. "When I read the conditions, those were exactly what I want my children to have." Lindy wants her children to be healthy and educated. She is now assured for the regular vaccination and check-up for her baby, because the program has a monthly cash grant of P500.00 for health. "With the cash grant I can buy milk and vitamins for my children," Lindy also added that even before the program, she often went to the health center for her pre-natal check-up.
"The money I have saved for my delivery has been gradually depleted. Some of it has already been used to buy food. I was also planning to use the remaining savings for my children's school dues, but now I don't have to do it because with this cash grant that I receive I can already pay their school dues. The release of cash grant is so timely because classes are about to end and we need to pay their school fees," Lindy shared with a smile while putting her P2, 200.00 cash grant in her purse. Lindy just received her first Pantawid Pamilya cash grant for the months of January and February, amounting to P2, 200.00.
With Pantawid Pamilya, Lindy is ready to face the life ahead. Aware that the program is only for five years, Lindy said, "I will make sure that what the government has given to us will be used on education and nutrition of our children."
Lindy got her umbrella from the side table, slowly getting herself up while holding her belly. With some few steps Lindy reached for the door, for a while, she stopped and reached for her pocket slightly clutching it, just to make sure her purse is still there, then she smiled and went out full of hope and optimism. # # # (Social Marketing Unit)