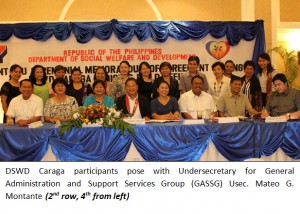 Butuan City– Three mayors from Caraga region inked their commitment through a Joint Regional Ceremonial Signing of the Memorandum of Agreement (MOA) between the Department of Social Welfare and Development (DSWD) Region XI and Caraga region with Local Chief Executives (LCEs) on April 16, 2012 at Apo View Hotel, Davao City.
The main objective of the activity is to ensure continued commitment of partner Local Government Units (LGUs) to Pantawid Pamilyang Pilipino Program implementation in Set 5 areas.
The activity also emphasized the joint effort of the national and local government in fighting poverty by meeting the Millennium Development Goals (MDGs): Eradicate extreme poverty and Hunger; Achieving Universal Primary Education; Promoting Gender Equality and Empowering Women; Reducing Child Mortality and Improving Maternal Health through the implementation of Pantawid Pamilyang Pilipino Program.
Caraga region has three set 5 municipalities represented by Hon. Demostheneses Arabaca of Magallanes, Agusan del Norte; Hon. Roscoe Democrito Plaza of Nasipit, Agusan del Norte and Mayor Librado Navarro of Bislig City, Surigao del Sur.
DSWD Regional Director Mercedita P. Jabagat in her speech emphasized that the MOA is a written understanding of cooperation, collaboration and partnership but more than anything else, the signing is considered as a symbol that communicates a meaning-a meaning that exudes a sense of responsiveness.  "Let this be a truly living symbol, because when it is alive, it has a power to influence and make something different," Director Jabagat added.
Other delegates from Caraga region who witnessed the said activity included DepEd Caraga Regional Director Dr. Gloria D. Benigno; DILG OIC Assistant Regional Director Donald Seronay; Ms. Purisima Polinar, ES-II; Lucia S. Castro, Division School Superintendent of Surigao del Sur, City/Municipal Social Welfare and Development Officers (C/MSWDOs) namely Ms. Letecia M. Yu of Bislig City, Surigao del Sur; Ms. Estrella M. Lerion of Magallanes, Agusan del Norte and Ms. Crecencia A. Bermudez of Nasipit, Agusan del Norte, and some members of Pantawid Pamilya Regional Project Management Team.
Pantawid Pamilyang Pilipino Program in Caraga region has been implemented in 70 municipalities and 3 cities, it has a total number of 148,817 registered beneficiaries, and 12,587 of these are set 5 beneficiaries. ### (DSWD Caraga-Social Marketing Unit) April 25, 2012