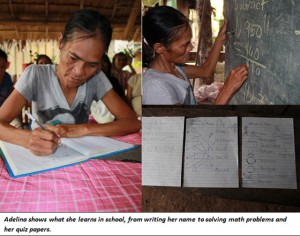 BUTUAN CITY – "I am so happy that even at this very old age, I am still able to go to school and learn what I should have learned more than 40 years ago. My involvement with Pantawid Pamilya has been one of the reasons why I am persuaded  to go to school. The Municipal Link Officer or the MLO has encouraged us that nobody is too old to learn," said the emotional 53 years old Adelina Rivas of barangay Mararag, Mrihatag, province of Surigao del Sur.
Adelina is very proud of her achievement – that she's able to go to school and learn the basics even despite her age.
" Kaniadto wala kami gi-engganyo sa among nanay nga mo eskwela kay patabangon lang mi niya sa pagtanom og kamote sa bukid (My mother didn't encourage us to go to school because she wanted us to help her plant sweet potatoes in the farm)," shared Adelina.
Adelina expressed how much she envied her neighbors and playmates attended school when they were young. "Magpanon na sila kay mang eskwela na. Pero ako, imbes eskwelahan sa bukid ko mo adto (Our neighbors' children would go to school together. As for me, instead of going to school I ended up working in the farm). One day, I realized that I have already lost my interest  to go to school.
"I did not finish grade one," said Adelina who covered her face with her palms, taking her moment to hold her tears and ease the emotion. She said, "I cannot even write my own name, I am not even familiar with the letters in the alphabet."
Her experience has not stopped Adelina and Adconico Rivas to work hard in order to send their eight (8) children to school and finish even only high school.
In year 2009, Adelina's family became a beneficiary of the government's Pantawid Pamilyang Pilipino Program, wherein they receive a monthly cash grants as long as they will comply with the conditions. One of the conditions set by the program is their attendance in their monthly Family Development Session (FDS). In this session, they were taught how to become effective and responsible parents. Her attendance to the FDS could only be verified through the attendance logbook, which she and the other beneficiaries have to sign becuase their attendance is closely monitored by their Municipal Link Officer (MLO).
"Pagkabalo nako nga kinahanglan diay mi mosulat sa logbook, nagguol ko kay dili man ko kabalo mosulat. Busa gipa tamark na lang ko sa among MLO (when I knew that we have to register and sign the logbook I got worried because I don't know how to write my name. The MLO asked me to use the thumb mark instead)," Adelina said. She also added that every time she gets her cash grants in the bank through over-the-counter payment, she noticed that the other grantees are using pens in signing the acknowledgment form, and she's the only one asking for a stamp pad for her thumb mark.
"Because of that experience, I realize I have to help myself, I must know how to write my name and read all those papers that I already signed or going to sign in the future," said Adelina.
In December 2011, armed with strong determination coupled with the willingness to learn, Adelina enrolled in the Alternative Learning System (ALS) in their barangay. The ALS class in their barangay is conducted once in a week. "We are all mothers in the class," Adelina proudly said.
This determined mother related that it was difficult at first, she has to learn the strokes in writing, she has to identify and memorize all the letters in the alphabets. Their first assignment was to form the letters in the alphabet using a rattan stick. "Naglibog ko sa permiro kay makalimot man ko sa litra, maayo na lang kay naa akong mga anak maoy motudlo sa akoa (I was confused at first because I sometimes forgot the letters in the alphabet, good thing my children are there, they helped me in my assignments)," recalled Adelina.
Within a few months, Adelina already knows how to write her name, she can even write it in cursive.  She is now also learning how to read and solve math problems.
Adelina realized how important education is, and found out that learning is still fun even at the age of fifty-three. "I am not ashamed of going to school and learning the alphabets at my age. School is not only for the young ones. It's also for older ones who want to learn," declared Adelina. # # # (Social Marketing Unit)