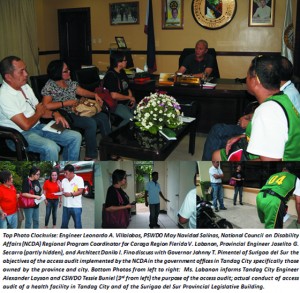 BUTUAN CITY -– The National Council on Disability Affairs (NCDA) and the Caraga Regional Committee on Disability Affairs led by the Department of Social Welfare and Development (DSWD) conducted access audit in Tandag City on June 15, 2012.
The activity is pursuant to the implementation of Accessibility Law or Batas Pambansa Blg. 344 – An Act to Enhance the Mobility of Disabled Persons by Requiring Certain Buildings, Institutions, Establishments and Public Utilities to install Facilities and Other Devices for differently abled persons.
Regional Program Coordinator for the Caraga region, Flerida Labanon said that President Benigno S. Aquino's directive to NCDA is to look into the accessibility of government buildings based on the provisions of Batas Pambansa 344.
The buildings included in the audit were the Provincial Capitol, Provincial Legislative building, Adela Serra-Ty Hospital, the Tandag City Hall, which is still under construction, Tandag City Police Station, and two health facilities of LGU Tandag.
Gov. Johnny T. Pimentel welcomed the conduct of the access audit and acknowledged that local officials also need some wake-up calls from other government agencies to be able to better the provision of services to the public.
During the audit, five features of a building were checked such as ramps, entrance, toilets, parking space, and stairs.
The team that conducted the audit included NCDA, DSWD, Surigao del Sur Provincial Social Welfare and Development Office, Provincial Engineering Office, Tandag City Social Welfare and Development Office and the City Engineering Office.
According to Ms. Labanon ramps should be located at the main entrance, not steep, with handrails on both sides and spacious width for wheelchair passage. She also emphasized that washrooms and toilets for PWDs must permit easy passage of  wheelchair with 1.50 cm turning space; door width must be 0.80 m clear, swing out; one movable grab bar and one fixed grab bar mounted at height usable by PWD wheelchair-user; tilted mirror; lever-type faucet and built with a non-skid materials for flooring.
Labanon said among the problems identified during site audit were steep ramps, lack of handrails, no signage, and inadequate and obstructed entrance, ramps, washrooms and parking space.
With these findings, Gov. Pimentel told the provincial engineer and his staff that first priority is the repair of the building features that do not meet the standards set by BP 344 which are doable and easy to comply with. Those that need thorough study and planning will be second priority because it would entail a considerable amount for the repair.
According to Labanon, government buildings like schools, offices, hospitals should be made accessible to persons with disability. ### (Social Marketing Unit)