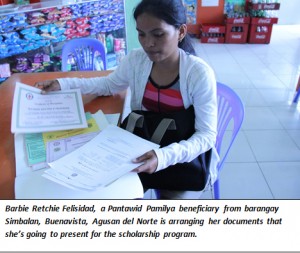 Butuan City – "Nalipay kaayo ko pagkabalo nga naay scholarship kay pwede na ko mo eskwela og college nga mag focus ra gyud sa pag eskwela (I was very happy when I knew about the scholarship, because I could focus in my studies)," expressed Barbie with a smile on her face.
Barbie Retchie Felisidad, 18 years old, is a high school graduate from barangay Simbalan, Buenavista, Agusan del Norte.  She is second among the twelve siblings.
Barbie believes that education and hard work are the key factors in achieving her dream of becoming a teacher someday. "Gusto gayud ko mo eskwela ma'am mao kada adlaw sa high school sa una maski wala'y baon mo sulod gayud ko kay dili ko ganahan mo absent (I really wanted to go to school. When I was in high school even if I don't have provision either money or food, I still attended classes)," Barbie said. She also shared that everyday she had to walk 30 minutes from their house to Simbalan National High School. "I love numbers, I want to be a math teacher," Barbie declared while perusing her high school card.
Looking back in 2011, Barbie's perseverance and determination in her studies paid off when she graduated second honorable mention in her class. She excelled in Math, English and Science subjects. "My parents were so proud and happy, but somehow sad because we knew that I would not be able to go to college. You see, we are twelve siblings in the family,"  explained  Barbie.
Barbie's world crushed when her father told her one night, "Bam, kung gusto ka mo eskwela og college dili gayud ka namo kaya nga mapa eskwela sa imong mama (Bam, if you really want to go to college, your mother and I cannot afford to send you to college). Her plan in going to college would not be realized.
Her mother Jovy Felisidad is a plain housewife, and her father is a farmer. Much as she wanted to go straight to college after high school graduation, the family's income could not support it. The situation, however, didn't discourage her; instead, it makes her even more determined to reach her goal.
One day, Barbie's aunt in Manila called up and encouraged her  to enroll in the six-month course offered by TESDA, Barbie grabbed the opportunity. "Ako to gikuha nga oportunidad aron dili masayang ang pila ka bulan nga dili ko maka eskwela, unom ra siya ka bulan pero daghan gihapon ko'y mahibaluan (I took my aunt's offer because I don't want to waste my time of not going to school, it may be only for six months but I will still learn from it)," said Barbie. enrolled Barbie in TESDA's dress making class.
Barbie enrolled in the dress making course offered by Technical Education and Skills Development Authority (TESDA) and she finished the course.  She then planned to work and have a part time job for her to pursue a four-year college education. "I know it's going to be hard, having a part time job at the same time studying, but I really want to achieve something so I have to do everything to have it," Barbie said with full determination.
Her desire to study further slowly come to reality. One day, one the Pantawid Pamilya Municipal Link Officers (MLO) assigned in Buenavista announced that the government is implementing a scholarship program for the Pantawid Pamilya beneficiaries who finished high school and want to pursue college education.
Barbie's dream of becoming a teacher is not far from reach because of the government's Student's Grants-in-Aid Program Alleviation (SGP-PA).
SGP-PA aims to contribute to the National Government's thrusts in effectively addressing poverty alleviation by the increasing of graduates in higher education among poor households and get these graduates employed in high-value occupations in order to lift their families out of poverty and contribute to national development.  SGP-PA is in partnership with the Commission on Higher Education (CHED) and the Department of Labor and Employment (DOLE). The program has already identified State Universities/Colleges (SUCs) that are approved by CHED's Commission en Banc, other SUCs may be considered provided that programs are either Level III or II accredited by a CHED recognized accrediting agency.
Pantawid beneficiary applicants need to present the duly accomplished SGP-PA application, certification from DSWD declaring as a Pantawid Pamilya beneficiary, birth certificate by NSO or Local Civil Registrar (LCR), health certificate issued by any government physician, forms 138 or has passed PEPT exam and certificate of grades for the last semester attended for continuing college students.
With the help of SGP-PA, Barbie and other scholars will receive a total of 60,000.00 annually or 20,000.00 per year for her tuition based on the average national tuition fees of SCUs 5,000.00 for per year for textbook/other learning materials and 35,000.00 per year for her board and lodging, transportation, health/medical needs, basic school supplies and other needed costs.
In return, scholars have to carry a full load per semester as prescribed in the curriculum and finish within the required period of the program, maintain a satisfactory academic performance in accordance with the policies and standards of SCUs, render a return of service for two years after graduation in the Philippines except for highly critical courses demanded by local industry and government services and adhere to the terms and conditions as stipulated in the contract.
"When I finish college and get a job, I promised my parents that I will help them send my younger siblings to school. I want our lives to be different this time; I've seen many of our neighbors reach college but were not able to finish it. I want to be different, I am going to finish college, make my parents proud, help my siblings and be a math teacher someday," said Barbie.
Barbie is one of the 163 potential Pantawid Pamilya scholars in Caraga region for the SGP-PA who, despite of the difficult situation, did not allow poverty to stop her from becoming a good educator in the future. # # # (Social Marketing Unit)