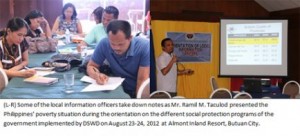 BUTUAN CITY – Recognizing the role of Local Information Officers in information dissemination at the municipal level, the Department of Social Welfare and Development (DSWD) conducted an orientation on DSWD social protection programs on August 23-24, 2012 at Almont Inland Resort, Butuan City.
The local IOs were oriented on the different core social protection programs of DSWD. The department believes that they play a vital role in educating and disseminating correct information to the beneficiaries and the public.
Aside from the social protection programs, local information officers were also oriented on the DSWD's vision and reform agenda and the poverty situation of the region by Ms. Leah T. Quintana, DSWD Regional Information Officer and Mr. Ramil M. Taculod, DSWD's Management Audit Analyst, respectively.
At the end of the activity an action plan for 2012-2013 were submitted by the IOs. They planned to provide space in their municipal bulletin board and local publication for posting of picture/success stories of the different programs; to regularly attend meetings and assemblies conducted by the programs and to assist or help in monitoring of the programs. ###