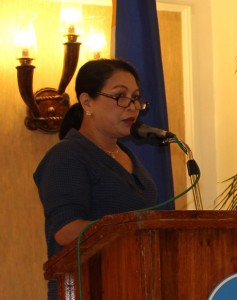 BUTUAN CITY -With the emerging and increasing concerns of families that need special protection, the Department of Social Welfare and Development (DSWD) will implement the modified Conditional Cash Transfer (CCT) program.
Caraga regional director Mercedita P. Jabagat said the modified CCT is designed to really increase the reach of the CCT to help families and children in difficult circumstances overcome their situation and mainstream them into the regular CCT program or commonly known as Pantawid Pamilyang Pilipino Program while generating appropriate sources and income in the community.
She said the target beneficiaries or families in this program are those families who are displaced from their homes due to different situations such as victims of manmade and natural-made calamities, IP migrant families, informal settlers  pursuing for better economic opportunities, and families with children in need of social protections such as children with disabilities, street children, out-of-school, child labor, abandoned and abused including those who were victims of other forms of exploitation.
---
The objectives of the Modified CCT are: to bring back children from the streets to more suitable, decent and permanent homes and reunite with their families; bring back children to schools and facilitate their regular attendance including access to Alternative Delivery Mode and other special learning modes; facilitate availment of health and nutrition services through regular visit to the health center; enhance parenting roles through attendance to Family Development Sessions (FDS); to mainstream families with children in need of special protection for normal psycho-social functioning through Pantawid Pamilya Program.
Jabagat emphasized tha like the Pantawid Pamilya, beneficiaries of the modified CCT has to follow certain conditionalities, these are: Weekly attendance to FDS for the first two months; Once a month attendance to FDS for the succeeding months and family counseling sessions; attendance to Alternative mode of learning or formal schools; Visit to health centers; and residing a permanent home after six months of social preparation.
Modified CCT partners with different CSOs for its implementation, CSOs will select any of the three types of partnership in implementing the modified CCT. CSO-run modified CCT is one of the types of partnership where in the operational implementing cost will be transferred to CSO and shall undertake the whole process of identification of beneficiaries to enrollment and delivery of support intervention. The modified CCT as CSO support intervention, shall be adopted by the CSO as a support intervention and as part of their rehabilitation plan to the existing family beneficiaries of CSOs. The last type of partnership is the DSWD-run modified CCT (Mobilizing Individual CSO members) in this type of partnership, DSWD will fully implement the modified CCT, and CSOs participation will be limited in the form of direct hiring of CSO members in their individual capacity as temporary contract workers on activity basis.
In Caraga region, six CSOs have already submitted their proposals and are now subject for review and approval. While DSWD-run modified CCT will be launched in September 2012. # # #