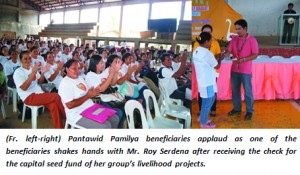 BUTUAN CITY – More Pantawid Pamilya beneficiaries have been benefited as DSWD continues to implement the Sustainable Livelihood Program (SLP). The SLP  is a community-based program, which provides capacity building to improve the program participants' socio-economic status. It supports microenterprises to become organizationally and economically viable and it links participants to employment opportunities. The SLP has two tracks.
The first one is Resource-Based and Market-Driven Sustainable Microenterprise Development through Self-Employment Assistance – Kaunlaran (SEA-K) Program. This is a capacity building program that focuses on community development, skills enhancement, network building and capital assistance to poor families included in the National Household Targeting System for Poverty Reduction (NHTS-PR) list, prioritizing the Pantawid Pamilya beneficiaries in order to improve their opportunities for managing a sustainable microenterprise.
The second is the Guaranteed Employment Track. It provides assistance to unemployed poor families included in the NHTS-PR list, prioritizing the Pantawid Pamilya beneficiaries who seeking for job opportunities.  They shall be provided with skills profiling, job matching, occupational guidance and counselling and job referrals.
According to Mr. Roy Serdena, Project Development Officer II and focal person of the SLP, since its implementation in 2011, the program has provided a total capital seed fund of P64, 022,400 to 8,280 Pantawid Pamilya beneficiaries in Caraga region for their livelihood activities.
Serdena also said that through the SLP, DSWD Caraga has also placed a total of 324 Pantawid Pamilya recipients to work with the Department of Public Works and Highways' road maintenance works.
Nationwide, as of July 2012, a total of 55,044 families including the 41,684 Pantawid Pamilya family beneficiaries had been provided with capital seed funds though the SEA-K while a total of  1,947 households employment was facilitated under the Guaranteed Employment track. ### (Social Marketing Unit)