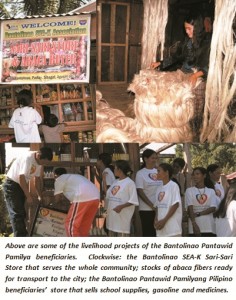 BUTUAN CITY – I've got an interesting story about entrepreneurship from Darryl Prado, Project Development Officer II of DSWD Caraga assigned in Sibagat, Agusan del Sur.
The story is about a group of Manobo women in a very remote mountainous area called Sitio Bantolinao, who, despite low educational attainment let alone a degree in business, has managed to start their own business and make it flourish.
These Manobo women are Pantawid Pamilya beneficiaries who received livelihood assistance from the DSWD through the Sustainable Livelihood Program (SLP). This is a community-based program, which provides capacity building to improve the program participants' socio-economic status. It supports microenterprises to become organizationally and economically viable and it links participants to employment opportunities.
As the implementer of the program, the DSWD believes that Pantawid Pamilya beneficiaries cannot rely on the conditional cash transfers alone to prevent them from under-investing in health and education. Through the SLP, beneficiaries would become more productive, whether as entrepreneurs or employees/workers.
---
Once I asked a friend, "What it takes to be an entrepreneur?" She answered; you must have a degree in business. Her answer could also be the answer of other people. 
However, the women I met in Bantolinao, are ordinary Manobo women with no diploma to boast of.  All they have is the vision to improve their economic condition by embarking on a group business.
The group's leader Evelyn M. Inocente or Inday as she is fondly called by her co-residents of Sitio Bantolinao, Padiay, Sibagat, Agusan del Sur said her group received the Self-Employment Assistance Para sa Kaunlaran (SEA-K) in January 2012. Each of the 19 members got P10, 000.
Building on from the good experience they have with their sari-sari store business that they have established out of their Pantawid Pamilya cash grants, these beneficiaries decided to pool together the P 10,000 SEA-K livelihood assistance each of them got to start a bigger livelihood project.
When asked why not do an individual livelihood project using the P 10,000, they said it would be more practical and feasible if they do it as association because there are only 50 households in their community. They believe if they do it individually, their business is doomed to fail.
The sari-sari store they have established with their Pantawid Pamilya cash grant was a huge success. In December 2011, they returned the members' share of the profit with each receiving an amount of P9,000. This business was not totally stopped. It continues to operate but only focuses on selling gasoline, medicines and school supplies.
The SEA-K money was used to venture into a big sari-sari store, buy and sell of abaca fiber and rattan.
The sari-sari store they have established through the SEA-K funds sells practically all the basic commodities and needs of the community like food and non-food items including slippers and apparels. It is housed in the building they constructed for the purpose.
The association buys a bundle of rattan at P23 and sells it in the city at P30. An amount of P3 is deducted from P30 for transportation and labor costs. The association has a profit of P4 each bundle. The abaca fiber is bought at P42 a kilo and sold in the city at P55. The transportation and labor expenses cost P6 per kilo.
The Bantolinao SKA also expanded their gasoline business in Sitio Bayabas and their sari-sari store in barangay proper of Padiay.
When it comes to their obligations, the Bantolinao SKA is always on time of their repayment to DSWD.  In SEA-K, the associations are required to have savings.  As of July 2012, the Bantolinao SKA savings in the bank is P 76,144.06.
While the Bantolinao SKA operates separately with other SKAs in Sibagat, it has entered into a joint project with the Sibagat SEA-K Beneficiaries Federation. This project is abaca production.  The federation, with the support from the local government acquired a five-hectare land and planted it with abaca. Inday Inocente, the president of Bantolinao SKA and a member of the Board of Directors of the federation, manages the project, which is also located near Bantolinao.
Another project the federation has established is the mini hydroelectric power generation from a falls located in Bantolinao. It is called Bantolinao SEA-K Electric Power Co. It is owned by the federation and the people of Bantolinao. The residents of Bantolinao automatically become members.  The monthly amortization, as agreed, will be P200 per month. As of now, the main plant is already functional; however, the installation of lines connecting to every house is still ongoing.
The project will provide 24/7 electricity service to about 50 IP households in Bantolinao.  It will also provide the opportunity for the SKA to go into processing of raw materials available in the community and make it good finish products to be sold in a competitive price.
It is true that starting a business can be difficult. Most would look for grants to help them begin.  When given the opportunity, they would take every step of the way to avail it. And this is what the women beneficiaries in Bantolinao did.
According to Inday Inocente, they are confident, determined and persistent in realizing these livelihood projects because there are people and groups who believe in them and supported them such as DSWD, an NGO called Sociao-Economic Uplift, Literacy, Anthropological and Development Services (SULADS) and the local government of Sibagat headed by Mayor Thelma G. Lamanilao.
Who would ever think that these ambitious projects are conceptualized and realized by ordinary people like the Pantawid Pamilya and SEA-K beneficiaries in Sibagat.
The success of Bantolinao SKA and the Sibagat SEA-K Beneficiaries Federation is a manifestation that ordinary people, if given the opportunity, can work for their own development and find their way out of poverty. ### (Social Marketing Unit)