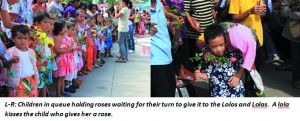 BUTUAN CITY -The Butuan City day care children made the commencement of Children's Month Celebration meaningful. They paid tribute to the elderly by giving red roses, which caused the outpouring of emotions by the older persons. The senior citizens in return hugged the children and showered them with kisses.
This happened on October 2, 2012 at Guingiona Park, Butuan City DSWD Caraga together with the Butuan City officials and employeesand different preschool children and daycare children in Butuan.
This year's celebration carries the theme: "Bright Child ay Siguraduhin, Responsableng Pamamahayag ay Palaganapin."
Butuan City mayor Ferdinand Amante and city counselor Angelo Calo, City Social Welfare and Development Officer (CSDWO) Aldebaran Mordeno and Ms. Angelita B. Amista of the Department of Social Welfare and Development (DSWD) witnessed the activity.
Mayor Amante in his speech thanked the senior citizens who have significantly contributed in building the nation. Amante also encouraged the children to do the same and thanked the children for the tribute and respect they gave to the elderly.
Ms. Amista of DSWD congratulated Butuan City fro winning in the Regional Search for Child Friendly City in Caraga Region (highly-urbanized category). The City of Butuan is also an entry to the national level contest.
In line with the Children's month celebration, DSWD will also conduct a Children's Congress on October 18, 2012 which is expected to participated by 154 child representatives, city/municipal social welfare officers or teacher, members from the Regional Committee for the Welfare of Children (RCWC), and indigenous children FROM THE FIVE PROVINCES IN THE REGION. This activity is seen to be an effective avenue for proper representation of the children sector's issues and concerns.
The Children's month is celebrated pursuant to Presidential Proclamation 267, series of 1993 declaring the month of October of every year as National Children's Month.
This special event for children aimed to emphasize the importance of the role of the child in the Filipino family and in the nation-building; to affirm the vital role of the children and declare that the state shall promote and protect their physical, moral, spiritual intellectual and social well-being and inculcate in them patriotism and nationalism. ### (Social Marketing Unit)