Tatanda  at lilipas din ako
Ngunit mayroong awitin iiwanan sa inyong
Alaala dahil minsan tayo ay nagkasama."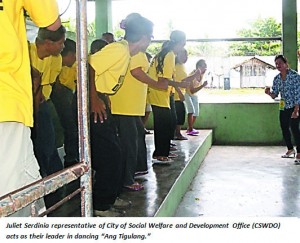 BUTUAN CITY – A chord struck us and tears fell down on our cheeks while watching the senior citizen inmates sung this song to us. In spite of his physical impairment, Tatay Roberto tried his best to impress us. Nanay Merlita Marquita cried out loud as she held my hands "I miss my family, I've never seen them since I was put to jail," she said. Every one of us in the activity area realized how difficult situation they are in. The older persons got emotional when policemen and employees of National Government Agencies (NGAs) gave them red roses. They also received gifts like foods, towels, noodles and bar soaps.  Lolo Samuel Camantes Sr. was very grateful for this is the first time they have experienced "Happy Times."
The Department of Social Welfare and Development (DSWD) together with other NGAs celebrated the Elderly Filipino Week on October 1-7, 2012 with the theme "Nakatatanda: Sa Bisa ng RA 9994 may Dangal, Nagkakaisa, Buhay ay Gumiginhawa." This happy time with elderly inmates is just one of the highlights of the celebration. This is the advocacy of the government that all senior citizens especially those who are behind bars and those with disability who need extra care can still enjoy life.
Ms. Wilma Geralla, regional focal person for older persons and persons with disabilities stressed the "Government loves the senior citizens." She emphasized that RA 9994 was created to address all the concerns of senior citizens. It aims to provide the senior citizens the benefits and opportunities such as, the twenty percent (20 %) discount plus VAT exemption to foods, medicines and hospital bills. They can also avail the social pension provided they are not pensioner and have no regular support from their children and relatives.
Regional federation president of Caraga Senior Citizens, Ramon Carlota, gave an inspirational message. "You should not lose hope instead spread the Lord's blessings." Carlota said.
The celebration was supported by Regional Committee on Senior Citizens (RIAC-SC) and the policemen under Senior Inspector Felix O. Resullar who gave a welcome message; The Bureau of Internal Revenue (BIR) together with Office of Senior Citizens Affairs (OSCA) and City of Social Welfare and Development Office (CSWDO).
Another activity to be conducted is the visit to the hospitals, food chains and stores in Butuan City to monitor compliance of RA 9994.
Despite the burdens they carry, our grandparents never forget to show their beautiful smiles.  It is an eye-opener to us that there is always "a rainbow after the rain."  ### (Social marketing Unit)