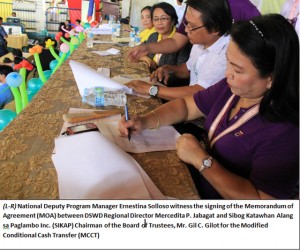 BUTUAN CITY – With emerging concerns of families that need social protection, the Philippine government through DSWD launched the Modified Conditional Cash Transfer (MCCT) on October 24, 2012 in the Municipality of Veruela, Agusan del Sur.
The Modified Conditional Cash Transfer (MCCT) will increase the reach of the Conditional Cash Transfer (CCT) program in order to help families and children that are in difficult situations and overcome such situations and be able to mainstream them into the regular CCT program or popularly known as Pantawid Pamilyang Pilipino Program.
The target beneficiaries of this program are those children and families in pockets of poverty not covered by the regular CCT. These are families who spend majority of their time on the street because it is where they earn their living; IP migrant families, they are the families of indigenous descent who are most often seen in the streets of highly urbanized cities or as rural migrants; families with children with disabilities included those who have long-term physical, mental, intellectual or sensory impairments which in interaction with various barriers may hinder their full and effective participation in society on an equal basis with other; families of child laborers, they are the families who have children who work in regular and sustained labor in small industries, mining, agriculture, etc. that prevents the child from enrolling in schools; displaced families due to manmade and natural disasters and other environmental factors, they are usually the victims of fire, typhoons and other forms of disaster and calamities and whose properties were lost during such events and other factors such as income displacement, death of the main breadwinner in the family and other forms if crisis in the family; and lastly, families in need of special protection which include households whose children were abused, abandoned, exploited, orphaned, in or on the streets and are not in school and in difficult situations.
MCCT also aims to bring back the children to schools and facilitate their regular attendance including access to Alternative Delivery Mode and other special learning modes; facilitate availment of health and nutrition services through regular visits to the health centers; enhancing of parenting roles through attendance to Family Development Sessions (FDS); bring back children from the streets to more suitable, decent and permanent homes and reunite with their families; and to mainstream families with children in need of special protection from normal psycho-functions through Pantawid Pamilya Program.
Like Pantawid Pamilya Program, beneficiaries of MCCT will also receive cash grants provided they comply the following conditionalities, weekly attendance to FDS for the first two months; Once a month attendance to FDS for the succeeding months and family counseling sessions; attendance to Alternative mode of learning or formal schools; visit to health centers; and residing a permanent home after six months of social preparation.
The Launching was a half-day activity and participated by the Municipal Mayor of Veruela, Hon. Salimar Mondejar;  Director Ernestina Solloso, National Deputy Program Manager of Pantawid Pamilyang Pilipino Program, DSWD Caraga Regional Director Mercedita P. Jabagat and representatives from the five Civil Society Organizations invited to the launching namely: Lihok Surigao Sa Kalambuan Association, Inc. (LISURKA, INC.), People's Alternative Center for Environmental and Sectoral Support (PACESS, INC.), Pambansang Kilusan ng mga Samahang Magsasaka (PAKISAMA), Empowering The Indigenous Peoples Agusan del Sur (EIPADS, INC.), Loving Presence Foundation and Sibog Katawhan Alang sa Paglambo, Inc. (SIKAP, Inc.).
One of the highlights of the activity is the signing of Memorandum of Agreement (MOA) between DSWD and SIKAP represented by DSWD Regional Director Mercedita P. Jabagat and SIKAP Chairman Gil C. Gilot for the Modified Conditional Cash Transfer. Pantawid Pamilya National Deputy Project Manager Elestina Solloso and Veruela Mayor Salimar Mondejar witnessed the signing of MOA.
In addition, mayor Salimar in his speech pledged to support the Modified Conditional Cash Transfer as well as other programs of DSWD implemented in his municipality.
The municipality of Veruela has a total of 1,200 MCCT beneficiaries registered.  A ceremonial release of cash grants was also given to 194 MCCT beneficiaries of the municipality together with National Project Management Office (NPMO) and DSWD Regional staffs. ### (Social Marketing Unit)