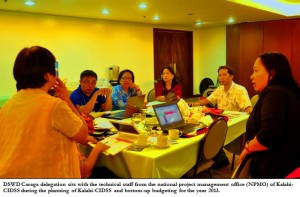 Butuan City – President Benigno Aquino III recenty approved P146-B worth of infrastructure projects during a meeting with the NEDA board last January 18. Of this amount, a sum of P81.9-B will be allocated to the Department of Social Welfare and Development (DSWD) for the scaling up implementation of one of its anti-poverty projects, Kapit-Bisig Laban sa Kahirapan – Comprehensive and Integrated Delivery of Social Services (Kalahi-CIDSS), into a national poverty alleviation program.
Du bbed as the National Community-Driven Development Program (NCDDP), this will use the community-driven development (CDD) approach in addressing poverty throughout the country. CDD has been proven to be an effective strategy in poverty alleviation through the ten-year experience of implementation of Kalahi-CIDSS.
"The ten-year track record of the CDD approach employed by Kalahi-CIDSS has continually proven that poverty can be alleviated by empowering ordinary citizens to actively and directly participate in local governance by identifying their own community needs, planning, implementing, and monitoring projects to address local poverty issues collectively," Mita G. Lim, assistant regional director for operations of DSWD Caraga as well as the regional project manager for Kalahi-CIDSS in Caraga, said.
DSWD will be the lead implementing agency of the program. However, NCDDP will be a concerted effort among all national government agencies' community-based projects. Participating agencies include the Department of Agrarian Reform (DAR), Department of Agriculture (DA), Department of Education (DepED), Department of Energy (DOE), Department of Environment and Natural Resources (DENR), Department of Labor and Employment (DOLE), Department of Health (DOH), Department of Labor and Employment (DOLE), Department of Interior and Local Government (DILG), National Commission on Indigenous Peoples (NCIP), National Economic and Development Authority (NEDA), Department of Budget and Management (DBM), and the National Anti-Poverty Commission (NAPC).
NCDDP will be launched in the second half of 2013. It will run for five years. In Caraga region, 42 municipalities will be implementing the program.
The DSWD is confident that this program will bring the development change needed by the most vulnerable and the disadvantaged sectors of society. Lim said, "This may be a fairly new strategy to the areas we will be covering, but we are very hopeful that with the knowledge and skills our workforce is equipped with, it will be implemented successfully in the region." ### (KeneathJohnBolisay/SocialMarketingUnit/DSWDCaraga)