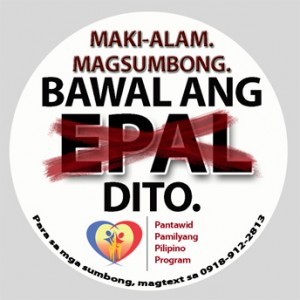 Butuan City – "Makialam. Magsumbong. Bawal ang Epal Dito" this is the tag line of the DSWD's Bawal ang Epal Dito campaign that aims to eliminate the epal in the implementation of DSWD programs especially the Pantawid Pamilyang Pilipino Program.
Moreover, the campaign also aims to empower the beneficiaries of the knowledge that no one has the right to delist a beneficiary and that only the DSWD Regional and National Office are authorized to delist a beneficiary if he/she did not comply the conditionalities of the program.
According to Director Minda B. Brigoli, DSWD Caraga Regional Director, such campaign was conceptualized because the Department would like to protect its beneficiaries from being used or threatened by politicians and other groups to gain votes for the upcoming 2013 May election.
The Bawal ang Epal Dito campaign will also directly eliminate the misconceptions of the beneficiaries about the control of politicians over them.
Campaign materials such as tarpaulins will be displayed in the Pantawid Pamilya areas and during pay-out of cash grants; brochures, flyers, stickers and button pins will be distributed to beneficiaries as well.
Pantawid Pamilyang Pilipino Program is one of the government's poverty reduction programs implemented by DSWD. It has been implemented in Caraga region since 2008. To date, the program is implemented in all municipalities and cities in the region with 160, 908 beneficiaries in the region as of February 2013. ### (Social Marketing Unit)