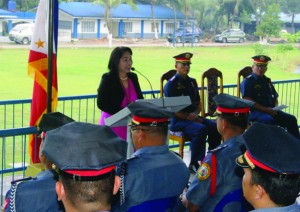 BUTUAN CITY – The celebration of National Awareness week of the Prevention of Child Sexual Abuse and Exploitation also known as Child Sexual Abuse Awareness Week (CSAAW) is done every 2nd week of February as provided for by Proclamation No. 731.  The theme for this year's celebration is "Child Pornography Wakasan! Sa Tamang Paggamit ng Internet, Bata ay Gabaya."
The Department of Social Welfare and Development Caraga region joined the celebration and conducted several activities to highlight this special event.
One of the activities was the sharing about the celebration by DSWD Caraga regional director Minda B. Brigoli during her keynote address at the PNP-Region XIII convocation after the flag ceremony on February 11, 2013. "The vision of the Philippine National Police which is to secure and protect is similar to DSWD," said director Brigoli. She stressed that protecting children from abuse and ensuring their safety is everybody's concern.
The government agencies, civil society organizations, local government units, the church and the people have their role in this endeavour.
An orientation on RA 9775 or the Anti-Child Pornography Act of 2009 was conducted on February 21, 2013 with 31 participants from members of the regional inter-agency committee on anti-trafficking and violence against women and children (RIACAT-VAWC), regional sub-committee for the welfare of children and regional office of the inter-agency council against child pornography. Hon. Marigel Dagani-Hugo, Agusan del Norte provincial prosecutor, explained the salient provisions of the law.
To intensify the information campaign, a radio guesting was held at the Bombo Radyo Butuan on February 24.  The resource persons for this activity were social welfare officers Ms. Jessie Catherine B. Aranas and Ms. Vilma V. Bare, adoptive parents Mr. And Mrs. Gerardo and Marieta Jandayan and regional information officer Leah T. Quintana.
Flyers on anti-child pornography were also distributed during the adoption help desk on February 22 at the Bututan City Hall. During the press conference on anti-epal launch, CSAAW was also highlighted by RD Brigoli.
The annual observance of the CSAAW aims to provide awareness to the children, parents, communities and the society in general on how to make our environment safe, protective and caring for our children.