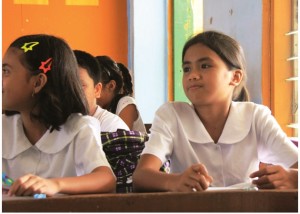 BUTUAN CITY – It is school time again. Children are enrolled in day care, elementary and high school. The Pantawid Pamilya children are enrolled in different schools nationwide.
In Caraga region, a total of 291,878 children beneficiaries of Pantawid Pamilya are in school this year. Out of this number, 54,577 are in day care; elementary, 205,635; and high school, 31,666.
According to DSWD Caraga regional director Minda B. Brigoli, Pantawid Pamilya is a human development program of the national government that invests in the health and education of poor households, particularly of children aged 0-14 years old. The Pantawid Pamilya provides cash grants to beneficiaries provided that they comply with the set of conditions required by the program.
Director Brigoli said this program is patterned after the conditional cash transfer scheme implemented in other developing countries. She explained that this is conditional because beneficiaries have co-responsibilities in this program.  The cash grant is given to the beneficiaries provided they have complied with the conditionalities on health and nutrition and education.
The following are the conditionalities on health and nutrition: 1) regular check-ups, monitoring the growth of the child and immunization of 0-5 years old child; deworming twice a year for 6-14 years old children; pregnant women must avail pre- and post-natal care and be attended during childbirth by a trained health professional; parents must attend Family Development Sessions (FDS) where responsible parenthood is discussed. The conditionality on education including the day care is the compliance to 85% of the time required by school in a year for the 3-14 years old children. These two conditionalities are really for the development of the economic condition of the poor to lift them out of poverty.
The cash grant for education is P300 per child every month with a maximum of three children in a household.  The cash grant for health is P500 per month every household.
Meanwhile, 122 beneficiaries of Pantawid Pamilya are enrolled in college.  They are included in tha Scholars for Students Grants-In-Aid Program for Poverty Alleviation (SGPPA). The SGPPA is a program jointly implemented by the Commission on Higher Education and Department of Labor and Employment (DOLE) that helps a lot in the education of Pantawid Pamilya beneficiaries. ### (Social Marketing Unit)