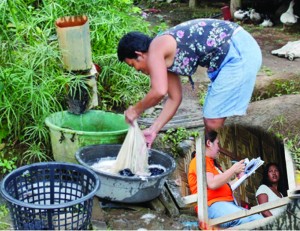 BUTUAN CITY – While people live in concrete houses, sleep in soft and comfy beds, eat delicious food and drink clean water, wear branded clothing, ride in luxurious vehicles and buy the latest gadgets, residents of barangay Nueva Era, Bunawan, Agusan del Sur don't have these things.
Though blessed with abundant land, barangay Nueva Era is a poor community. This property was donated by the popular religious group Iglesia ni Kristo. It was granted to them in 2002.
One of the residents is Jennifer Capin, a mother of seven children, shared her experience when tropical storm Pablo struck. "Grabe gyud tong bagyo. Kami sa mga anak nako nanga hadlok kay nang lupad ang amoang mga atop. Pwerte namong ampo kami sa akoang mga anak, (Tropical storm Pablo brought havoc in our community. Strong winds blew away our roofs; my children and I were terrified. We prayed so hard).
After the horrible typhoon, life became more difficult. Community people face a lot of problems like unsafe water for drinking and existence of only one toilet. "Isa lang ang amoang C.R. ug daghang balay ang gagamit mao amoa kini gitawag og "corporation". Ug wala pud mi tarong na tubig usahay ang ulan mao amoang tubig or gakuha mi sa balon. (We only have one comfort room here and many households are using it that is why we called it corporation. Also, we do not have safe water for drinking)," expressed Albert Justo, a farmer and a resident of Nueva Era.
These are the expressed needs of Nueva Era residents when a team from the Department of Social Welfare and Development (DSWD) Caraga composed of National Household Targeting System for Poverty Reduction (NHTS-PR) staff conducted a special validation for the victims of tropical storm Pablo.
The goal of special validation was to determine the conditions and needs of affected households. This is also intended to review the status of households already in the database and assessed households that are not in the database but were affected by the typhoon.
The special validation was also conducted to give face to the conditions of those affected and as a baseline as to what assistance and services will be provided by the government through the national agencies and other stakeholders for the victims of typhoon Pablo.
As a social protection agency, DSWD through NHTS-PR is leading the process in identifying the poor. The NHTS-PR felt the suffering of residents in barangay Nueva Era that is why the team makes extra effort to reach the Pablo survivors even in a far-flung area.
"Nalipay mi nga naa mo karon nag interview sa amoa ug naka balo mi unsa ning NHTSPR, unta mapansin sa gobyerno amoang kahimtang diri sa Nueva Era." (We are very happy that you came here and interviewed us and explained to us about NHTSPR, we hope that our Government will see our situation here in Nueva Era), Jennifer said.