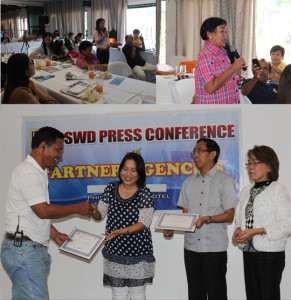 The Department of Social Welfare and Development (DSWD) Field Office Caraga met the Surigao City Press in coordination with Philippine Information Agency (PIA) through a  Press Conference on August 28, 2013 at Gateway Hotel, Surigao City.
Regional Director Minda B. Brigoli of DSWD, Florencio Sunico Jr. of TESDA and Letecia Tan of DOT were the resource speakers of the Press Conference.
Director Brigoli, in her opening statement said "the trust of the government now is inclusive growth, inclusive growth implies an equitable allocation of resources with benefits incurred to every section of the society, meaning no one must be left behind on our way towards growth. That is why, DSWD as the leader in social protection, is working hand in hand with government agencies and private sectors and other stakeholders."
Director Brigoli also announced the 2nd nationwide assessment to be conducted by DSWD this year to identify poor families needing assistance of anti-poverty programs and services. This undertaking also gears towards achieving the vision of inclusive growth. The assessment will be undertaken through DSWD's project dubbed as "Listahanan" or the National Household Targeting System for Poverty Reduction (NHTS-PR). Listahanan is an information management system that identifies and assesses who and where the poor are. Listahanan makes available to the national government agencies and social protection stakeholders a pioneer database consisting of comprehensive information about poor families nationwide.
Updates on the program implementation of the three (3) social protection programs of the Department were discussed, namely the Kapit-Bisig Laban sa Kahirapan Comprehensive and Integrated Delivery of Social Services (Kalahi-CIDSS), Pantawid Pamilyang Pilipino Program and the Sustainable Livelihood Program (SLP) by the Regional Project Coordinators and Focal Person, Elsa Montemor, Alma Patron and Roy Sardena, respectively.
Also, three Pantawid Pamilya parent leader beneficiaries attended the press conference. They shared the impact of the Pantawid Pamilya program in their lives.
When asked by a reporter if receiving cash grants from Pantawid Pamilya makes them lazy, Evelyn Escabal a Pantawid Pamilya parent leader from barangay Taft, Surigao City replied, "Even before the program came to our barangay we've already worked hard for our family. The 1,400 Php a month cash grant our family receive every two months could not suffice everything that we need, but it helps us to immediately pay our children's school contributions and to provide for their on time completion of school projects. The small amount given by the program is not the answer to our financial problems, so we have to work hard to meet our needs."
Furthermore, Eveleyn also narrated that their monthly attendance to Family Development Sessions (FDS) helped her gain self-confidence, "Tungod sa Pantawid Pamilya ug sa among pagtambong sa Family Development Sessions (FDS), na empowered ko isip usa ka babae. Ni taas akong self-confidence ug labaw ni ana daghan miy nakat-unan. Akong nakat-unan ang napulo ka katungod sa mga bata, ug mga katungdanan namo isip usa ka ginikanan."  (Because of Pantawid Pamilyang Pilipino Program and our monthly attendance to the Family Development Sessions (FDS), I am now an empowered woman. I gained self-confidence and most of all I learned a lot. I learned the ten (10) rights of a child and how to become an effective parent)."
TESDA Regional Director Florencio Sunico Jr.also said to the press that government agencies are now converging in order to address the poverty issue in the country. Dir. Sunico talked about planning to engage Pantawid Pamilya beneficiaries in skills enhancement trainings. He also talked about the convergence of DSWD through the cash-for-training program, implemented by TESDA and funded by DSWD. Sanico said, the cash-for-training program which has been implemented in Caraga region has 3,286 beneficiaries with 20,000 Php per capita cost.
DOT Regional Director Letecia Tan, also said that they are willing to train Pantawid beneficiaries in Siargao as tourist guide in the area, "tourism must be understood from the community level and the members of Pantawid Pamilyang Pilipino Program in Siargao, could be part of the community guide for tourism in the area."
Director Brigoli thanked the media for their invaluable support as active partners in social marketing and advocacy effortsfor DSWD's social protection programs, "we always believe that you are our partners  in giving correct information to the public. That is why we are here sharing with you these information. Let us together join our hands in making our people understand the programs of the government implemented by DSWD in collaboration with stakeholders."
The Press conference was conducted to inform the media on the updates of DSWD's program implementation and engagements with other stakeholders and partners in providing programs and services to address poverty. It also intends to popularize the Bawal ang Epal Dito campaign for the coming barangay election in October.
It also aimed to answer and clarify queries and issues from media and to tighten partnership with them. ### (Social Marketing Unit)