There are things that give happiness, most of which cannot be gotten through monetary gains. Sometimes, it comes from having a heart to serve. When one becomes selfless, the more one has many reasons to be joyful and satisfied, as Mercy Malazarte Balagon testified.
Love for learning
Mercy, a housewife of a construction worker and a mother of two (2) daughters, was born with a zest in learning.  However, Mercy sacrificed her dream of getting a diploma in exchange for her brother's college education, understanding the financial incapability of their family.
At 38 years old, she was only able to finish high school. Her lack of education led to some insecurity.
"Pag magkita mi sa akong mga ka-batch sa high school, usahay makabati ko ug kaibog ug kaulaw nila. Maka-ingon ko maayo pa sila mga propesyunal na, ako intawon, tindera lang (Every time I meet my batch mates who are already professionals, I feel envious and ashamed because they already have titles, and I am only a vendor)," shared Mercy, who, like any mother, wanted her children to be proud of her.
"Gusto ko nga ma-proud ra gihapon akong mga anak sa akoa bisan dili ko propesyunal mao nga naningkamot ko nga makakat-on arun dili ra pud ko ingnan nga wala jud nahibal-an (I want my children to be proud of me even though I am not a professional. That is why I'm trying my best to learn; so that I will not be deemed as ignorant or stupid)," added Mercy.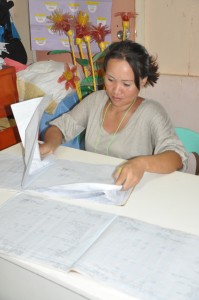 While Mercy may not have completed her formal education, she understood that education is not limited to the four (4) corners of the classroom. As such, she tried to look for chances where she can learn, knowing that gaining knowledge would be advantageous for her.
The opportunity to gain more knowledge opened for her when she served as a community volunteer of Kapit-Bisig Laban sa Kahirapan-Comprehensive and Integrated Delivery of Social Services (Kalahi-CIDSS) early this January in its 2nd cycle of Makamasang Tugon (MT) implementation in their barangay.
"Nalipay ko nga nakaapil ko sa pag-volunteer sa Kalahi-CIDSS. Daghan kaayo ko ug nakat-unan labi na sa mga trainings nga among giagihan (I am happy I participated as a volunteer in Kalahi-CIDSS.  I learned many things through the trainings I had undergone together with the other volunteers)," Mercy happily shared. The community facilitator in their barangay said that she's one of the volunteers who really gives time to the project and that she is really eager to learn.
Mercy, together with her fellow volunteers, identified the drainage system project as the social service timely needed by their barangay. With the concrete canal sub-project in Brgy. Poblacion, the community hoped that cases of dengue fever will be lessened if not eradicated in their locality since the project will solve the flooding problem.
Flooding is one of the major contributors of dengue, because the Aedes egypti mosquito thrives only in stagnant water. According to the Department of Health (DOH), an outbreak in Esperanza in 2012 resulted in 130 dengue cases in the municipality.
Center for Health and Development (CHD) Caraga statistics data shows that Brgy.Poblacion in Esperanza, Agusan del Sur had a noteworthy number of dengue fever cases which totaled to 103 during 2012.
The large number of dengue cases in their community made the residents worry. "Daghan jud kayo gi-dengue niaging tuig mao nga na-alarma na jud mi. Nakita namo nga ang isa sa rason nga nanaghan ang lamok diri sa among dapit kay tungod sige baha kada-mag-ulan (There were many victims of dengue fever last year, so we were really alarmed. We observed that one of the reasons why the disease-causing mosquitoes flocked in our barangay is because of flooding every rainfall)," Mercy added.
No more flooding
Today, flooding is no longer a problem during rainy seasons in Brgy. Poblacion because there is already an infrastructure for drainage through Kalahi-CIDSS.
The drainage system sub-project served as the community's extended support to the movement of DOH against the prevention of dengue fever.  This may not be considered a big contribution by many, but this aid to their community is already a great achievement for the volunteers, particularly, since the records of CHD Caraga showed that there were only 23 dengue cases in the barangay from January to September 2013, as opposed to the 103 recorded cases in the previous year.
"Dako akong kalipay nga nakita ang kanal sa among barangay. Dili na jud pareha sa una nga pag moulan kay grabe ang baha unya dugay pa jud kaayo mohupa. Hugaw kayo ang tubig ug daghang mga lamok. Karon nga aduna nay kanal, arang-arang na, wala na kaayo ko madungog nga nagka-dengue diri sa among dapit (I am really happy seeing the concrete canal in our barangay. Whenever it rained in the past, we experienced flooding and the waters did not dissipate easily. The stagnant water was very dirty and there were many mosquitoes. Now that there is already a concrete canal, the situation is getting better and I seldom hear cases of dengue fever)," proudly uttered by Mercy.
Knowing that her mother's active involvement in their barangay is a result of her desire to learn and to help, Mergiese, Mercy's eldest daughter who is in college taking up BS Community Development, said that her mother is already applying what she is still learning in the academe. She told Mercy that she is proud of her mother for having done something worthwhile in their community.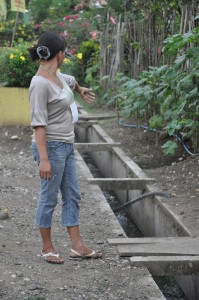 "Dili masukod akong kalipay nga bisan ing-ani ra ko, dili propesyunal ug tindera lang, ako ng anak na-proud sa akoa. Salamat sa Kalahi-CIDSS sa paghatag kanako ug oportunidad nga makahimo ug kalihukan nga angay ikapasigarbo nga aduna koy kabahin (My happiness is unfathomable because even though I'm only a vendor and not a professional worker, my daughter expressed that she's proud of me. I thank Kalahi-CIDSS for giving me the opportunity to do something I can be proud of)," Mercy stated with tears in her eyes.
Mercy admitted that prior her involvement in Kalahi-CIDSS, she was one of the people who made negative comments about projects to be implemented in their community. She used to think that these will not be finished, as the funds will just be pocketed by corrupt individuals. It was only when she volunteered that she learned to appreciate Kalahi-CIDSS.
"Lahi ra gyud ang Kalahi-CIDSS. Na-appreciate jud nako ang proseso sa programa. Bisan  ug hago kaayo kay daghang mga dokumento ug grabe kayo ka-kuti (Kalahi-CIDSS is really different from other programs. I appreciate its processes despite its very laborious nature since there are many documents to be filed and you need to be very meticulous to process these)," Mercy opinioned.
As a bookkeeper, Mercy is tasked to record the day-to-day financial transactions of the Barangay Sub-Project Management Committee (BSPMC), which is what the group of Kalahi-CIDSS volunteers working in the implementation of their sub-projects is called. It is her responsibility to ensure that all of these are recorded correctly.
In her eight-month volunteering involvement, she learned to trust Kalahi-CIDSS, and this led to her participation in other community activities. She is now also involved in the movement against Human Trafficking.
Mercy's experiences in Kalahi-CIDSS served as eye openers for her to see the needs of her community and her village's need for responsible citizens who are willing to be the movers of development and not be passive pessimists. She learned that through participation, people can be triggered to act and do something to be a part of their community's positive transformation. She came to realize that even a little contribution you extend will create a great impact in your locality.
" Tiwala sa aking sarili at sa aking kakayahan ang nagsibing gabay ko upang makamit ang mga pagbabagong ninanais ko sa aking buhay gayudin sa aking paligid, " Mercy quipped.
Kalahi-CIDSS, is a special project of DSWD that uses the community-driven development (CDD) strategy to empower local communities, improve local governance, and fight against poverty. It is one of DSWD's core social protection programs along with Pantawid Pamilyang Pilipino Program (Pantawid) and Sustainable Livelihood Program (SLP). Kalahi-CIDSS is currently in its 10th year of implementation. (###Social Marketing Unit/DSWD Caraga)