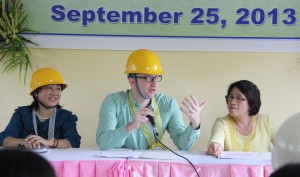 Butuan City- Pupils of El Rio Elementary School in Sibagat, Agusan del Sur blissfully waived their colored-paper crafted Australian and Philippine flags to welcome Layton Pike, Minister Counselor of Australian Agency for International Development (AusAID) together with Regan Dagadas, AusAID's Senior Project Manager on Education in their visit last September 25, 2013.
"It is really a nice day to have our visitors look at how we implement our programs or projects especially that those are sponsored by the Australian government through AusAID," said Regional Director Minda Brigoli of DSWD Caraga in her presentation of updates on the implementation of the AusAID funded sub-projects in the region.
Pike's visit was also graced by the Regional Project Management Office (RPMO) team of Kalahi-CIDSS Caraga who wore violet polo-shirts and hard hats signifying that the area is still in its ongoing construction. The team was headed by ARD Mita Lim, Regional Project Manager, and was also joined by other DSWD staff.
In his short speech, Pike mentioned that it was his first visit to a classroom that AusAID helped to construct.
"Just sitting in here, absorbing the ambiance this morning, it feels like it is a very happy classroom and it would be a very special learning place for many years to come," Pike said commenting about the classroom where the short program was held.
"Education creates opportunity that's why Australia is happy to support the work you're doing here. Education is the core engagement of Australia in the Philippines," he added.
Local government officials led by Honorable Mayor Thelma Lamanilao of Sibagat, together with the community volunteers and the school's faculty, also shared their presence in the event and considered it an opportunity to express their immense gratefulness for the help given by the Australian government to their locality.
"Rest assured, we shall continue a hand-in-hand operation, maintenance and sustainability of the projects," Mayor Lamanilao stated as a response to Pike's query about the community's planned actions regarding the sustainability of the project.
AusAID is a special program of the Australian government which extends financial and technical assistance to poor countries. Today, it is one of the major partners of DSWD especially the Kalahi-CIDSS in extending social services and providing social protection to the less-privileged communities in the region. (###Eunice G. Montaos/Social Marketing Unit/DSWD Caraga)