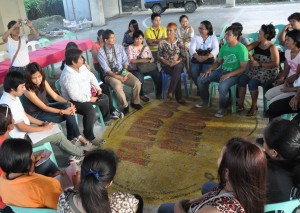 Butuan City- Six (6) World Bank (WB) representatives conducted the 12th Implementation Support Mission on October 14-16, 2013 and visited barangays Pagatpatan and Doongan in Butuan City and the municipalities of Barobo and Sibagat in Surigao del Sur and Agusan del Sur respectively.
The mission aimed to generate ideas about how the Community Driven Development (CDD) Urban pilot is implemented in Butuan City and how the Bottom-Up Budgeting (BuB) Implementation is progressing in Barobo.
"Our purpose of the mission is not only to check or observe the status of the implementation of the WB assisted projects in the local level but also to learn and draw lessons from the local officials' and the community volunteers' experiences that we can document and share with the other areas and possibly to other countries with the same projects," said Malu Padua, Social Development Specialist and the team leader of the mission.
Padua was also joined by other WB representatives namely: (1) Gerry Parco, Environment Safeguard Specialist; (2) Roy Tordecilla, Operations Officer; (3) Yolanda Azarcon, Portfolio Specialist; (4) Shiela dela Torre, Consultant; and   (5) Olidan Galvez, Finance Management Consultant.
Director Benilda Redaja, National Project Manager of Kalahi CIDSS, was also in attendance during the mission together with the other National Project Management Office (NPMO) staff in the persons of Juan Ceciro Aguilar, Deputy National Project Manager for Technical Support Division and National CDD Specialist, Ma. Consuelo  Acosta, National KC-Pamana Project Coordinator and Head in Admin Operation and Lee Patarlas, KC- Community Finance Specialist, to assist the WB guests.
"It is wonderful to have our visitors see how their assisted projects are implemented and witness themselves how those contributed in the reduction of poverty incidence in the region," commenced Regional Director Minda Brigoli of DSWD Caraga in her presentation of the project briefer for the mission and the region's status of development from being the poorest in the country last 2008 and being 6th in 2013 as reported by the National Economic Development Agency (NEDA).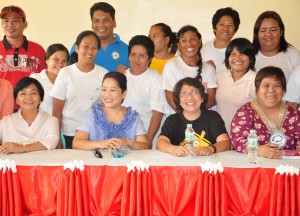 During the dialogues and focus group discussions (FGDs), Hon. Ferdinand Amante, Jr., Hon. Felixberto Urbiztondo and Hon. Thelma Lamanilao, mayors of Butuan, Barobo and Sibagat respectively, as well as the other local officials and volunteers thanked the WB team for the financial assistance extended to their localities for project implementation.
With the collaborative effort of the Regional Project Management Office (RPMO) staff headed by Assistant Regional Director, Mita Lim, Regional Project Manager, the three (3) day mission was indeed successful.
Community-Driven Development (CDD) Urban, pilot tested in Butuan City for Caraga region, and Bottom-Up Budgeting (BuB) are new modalities of Kapit-Bisig Laban sa Kahirapan-Comprehensive and Integrated Delivery of Social Services (Kalahi-CIDSS). It is a World Bank funded special project of DSWD which uses CDD approach and advocates empowering local communities, improving local governance and reducing poverty.
With its motto, "Working for a World Free of Poverty", the World Bank is an international financial institution that provides loans to developing countries for capital programs.  It has long been a major partner of DSWD in addressing poverty in the Philippines as it provides financial and technical assistance to developing countries around the world. DSWD-Kalahi-CIDSS and the World Bank share a distinct partnership in reducing poverty and supporting development. (###Eunice G. Montaos/Social Marketing Unit/DSWD Caraga)