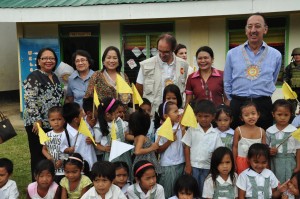 Butuan City- In his visit to Caraga on October 17, 2013, Jorge Manuel Domecq Fernandez, Ambassador of Spain to the Philippines, went to Sibagat, Agusan del Sur to personally see the implemented projects which are funded by the Spanish government through Agencia Española de Cooperacion Internacional para el Desarollo or Spanish Agency for International Development Cooperation (AECID).
The pupils of San Vicente Elementary School (SVES) sung a welcome song while waving their flaglets to greet their highly-esteemed visitor. The ambassador took time standing with the pupils and teachers for picture taking. After which, he toured the classrooms and asked few questions to the students about the country he represents- Spain.
Ambassador Fernandez was escorted by AECID Representatives Cristina Garcia Brito, Program Manager for Governance and Vicente Selles Zaragozi, General Coordinator of the Spanish Cooperation in the Philippines,
Regional Director Minda Brigoli and Assistant Regional Director for Operations Mita Lim also assisted Ambassador Fernandez and presented the gains of the implementation of projects through AECID which provided Caraga a total grant of 124,833,564.75 Php during 2005-2012 and realized the 165 constructed projects. They also mentioned to Fernandez about the total amount of the local counterpart contribution generated which is 40,914,389.70 Php.
After his visit in SVES, Ambassador Fernandez and his party proceeded to the Day Care Center in Brgy. Poblacion, Sibagat.
Poder y Prosperidad dela Comunidad Project (Empowerment and Development of Communities) or PODER is a special project implemented by the Department of Social Welfare and Development with funding assistance from AECID.  It adopts the community-driven development (CDD) processes and principles of the KALAHI-CIDSS' framework and strategies. (###Eunice G. Montaos/Social Marketing Unit/DSWD Caraga)