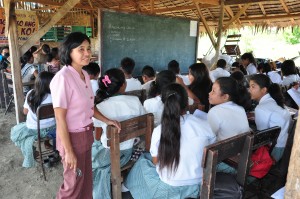 Butuan City – The quest of fighting poverty in the country from which the Kapit-Bisig Laban sa Kahirapan- Comprehensive and Integrated Delivery of Social Services (Kalahi-CIDSS) is in the frontline since its inception in 2003, has already gone a long and successful trail. With its use of Community Driven Development (CDD) approach, a number of rural, most far-flung communities, had realized to themselves projects which aided their need for social services.
Now that Kalahi-CIDSS is widening its scope, CDD Urban came into the picture. It is a Project aimed at sharing the Kalahi- CDD process of development in the urban areas.
This new Project prioritized the seemingly unnoticed poverty-stricken communities which are concealed behind a highly urbanized image of Butuan City- the place where the Project is pilot tested in Caraga region.
Forty-nine year old Zenaida Jamero, a committed teacher of Agusan Pequeño National High School (APNHS), Brgy. Pagatpatan campus, was very happy having heard through their Punong Barangay about the entrance of Kalahi-CIDSS in their village in the early April this year. Pagatpatan, as well as Brgy. Doongan, was identified to receive the grant for Project funding based on the 2009 National Statistical Coordination Board (NSCB) survey. It was noted through the survey that a considerable number of poorest households in the city were residing in the said place.
In Brgy. Pagatpatan where most residents are just relocated, poverty is something most households are battling about. Because Zenaida grew up with every faces of poverty, she understood how and what it is to be poor.
With her students' welfare and future in mind, she presented herself as a volunteer to voice the students' need of classrooms conducive for learning. She was even chosen to be the City Sub-Project Management Committee (CSPMC) chairperson in Brgy. Pagatpatan.
"Because I am a teacher, I know exactly the needs of my students. I believe that having a comfortable learning area will help them in their learning process," Zenaida reasoned.
She saw how her students suffered from using the Gawad Kalinga multi-purpose building as well as the nipa-roofed classrooms which are very prone to noise and disruptions. The raindrops are very noisy during rainy days because their nipa classrooms don't have walls as barriers. The floorings aren't concreted so they experience muddy and bumpy grounds depending on the weather. As a teacher, Zenaida isn't blinded to these discomforts her students patiently condone just to have education.
Much to her gladness, their proposed project which is the construction of concrete classrooms for APNHS annex classrooms in Pagatpatan was prioritized, against the concrete canal, with the support of the concerned parents of the students.
"I'm glad that the parents opted and supported the proposal for the construction of new and concrete classrooms," she added.
In CDD Urban, puroks in the same barangay are given the opportunity to present project proposals. The people will then choose through proper and transparent voting during the Inter-Barangay Forum (IBF) for which of the projects proposed will receive funding, using a set of criteria that they themselves have articulated and chosen. In the case of Pagatapatan, their IBF happened on October 10, 2013 that concluded the classroom sub-project to be prioritized .
"Empowerment of the grassroots level, that's what I appreciated in Kalahi-CIDSS," Zenaida expressed.
As the CSPMC, Zenaida, fondly called Ma'am Titing, expressed her willingness to assist other volunteers in the project implementation. She assured that despite her busy schedule as a teacher, she will manage her time well to help in the completion of the Project in its given timeframe.
This year, Zenaida is in her silver anniversary in the teaching profession. She started teaching science subjects to high school students at 24 and ever since she didn't leave her vocation.  When asked about her reason of being a volunteer, Ma'am Titing can only say that it is expected for every teacher to always have a heart for volunteerism.
"Perhaps, I'm a teacher by profession and a volunteer by heart," Ma'am Titing concluded.
###(Eunice G. Montaos/Social Marketing Unit/DSWD Caraga)