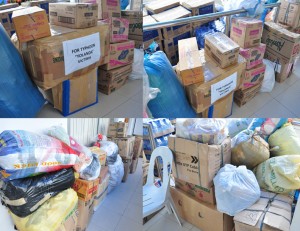 Butuan City- The Department of Social Welfare and Development (DSWD) Field Office Caraga had already received donations from different sources to help the victims of typhoon Yolanda in Region VIII.
In-kind donations, with an approximate total cost of P114,459.20, were brought to the Field Office.
These are comprised of assorted used clothings, pieces of underwear, towels, vitamins, tumblers, feminine wash products, deodorants, canned sardines, biscuits, disposable toothbrushes, toothpaste sachets, soap bars, shampoo sachets, sanitary napkins, sacks of rice, noodles, and bottles of drinking water.
The Supply section headed by Ramel Jamen, Supply Officer, supervises the receiving of donations. Some FO and COA personnel were assigned to receive and to issue an Acknowledgment receipt.
Also, in cash donations from some local government units have now amounted to Php 22, 693.00. These were sent to the Office through an LGU representative with a duly complied and signed Deed of Donation form and they were then issued an Official receipt from the Cash section.
The donations sent from November 10-17, 2013 were delivered, and were not repacked, from the Field Office in Butuan City to Ormoc Relief Hub. Those sent from November 18 up to present will be forwarded to the Office of the Civil Defense (OCD) as agreed during the Regional Disaster Risk Reduction Management Committee (RDRRMC) meeting.
The Office had announced that donations are still accepted and had assured that all the donations dropped in the Office are in good hands and will surely be handed to our fellow Filipinos in Leyte who are victimized by the fierceness of 'Yolanda'.###(Eunice G. Montaos/Social Marketing Unit/DSWD Caraga)