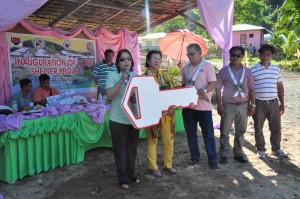 Butuan City- The Department of Social Welfare and Development (DSWD) Caraga turned over thirty-five (35) core shelters in Brgy.Tapian, Mainit, Surigao del Norte on November 18, 2013.
This Project is a product of the converged efforts of DSWD and the local government units of SdN. Nineteen (19) families among the recipients of the Project are Pantawid Pamilyang Pilipino Program (4Ps) beneficiaries.
The ceremonious activity was graced by DSWD Caraga's Regional Director Minda Brigoli, who expressed her much delight that the Government, through the agency, was able to provide 2,450,000 Php for the completion of the Project from which each unit costs 70,000 Php.  She was escorted by Angelita Amista, head of Protective Services Unit (PSU).
"DSWD Caraga was also able to assist the Project through the Cash for Work program worth 67,725 Php ," Dir. Brigoli added.
In 2011, Secretary Corazon "Dinky" Soliman of DSWD initiated the ground-breaking activity to commence the Project implementation. With the united efforts of the beneficiaries who personally exerted their best in building the houses with funds assisted by the Government, the Project was realized and was blessed for dedication and protection by Rev. Pastor Lino Magpatoc of Mainit.
Governor Sol Matugas of SdN also joined the event. During the turn-over, she accepted the key which symbolizes acceptance of responsibility and accountability of the local government regarding the Project. Prior the inauguration, the LGU of SdN already assisted the community through providing heavy equipment, expert engineers and painting materials.
Family packs containing rice, canned goods and noodles were distributed by Gov. Matugas for the dinner of the recipients after the inauguration. She also stretched her support to the beneficiaries through a promise of additional fund for the ceiling of the houses.
In his speech, Mayor Ramon Mondano of Mainit mentioned about the sustainability of the Project. According to him, sustaining the core shelters is the best way the beneficiaries can express their gratitude to the Government which provided them concrete shelters to live in.
The challenge from DSWD and the LGU was accepted by the members of the Barangay Tapian Neighborhood Association for Shelter Assistance (BTNASA) who were already oriented about their obligation to maintain and repair the houses. The unveiled marker placed in the entrance of their mini village will always remind them of the different stakeholders' collaboration and their responsibility as recipients.
Core shelter houses are specially designed units with features to withstand strong typhoons. Their primary purpose is to house victims of such calamity. Providing those is one of the programs of DSWD- the flagship government agency which initiates to deliver social protection and social services to the poor, vulnerable and disadvantaged.
DSWD is the home of special programs which operate in fighting poverty in the country. ###(Eunice G. Montaos/Social Marketing Unit/DSWD Caraga)