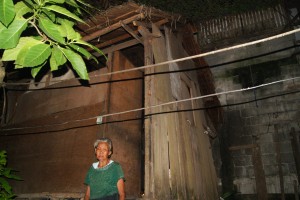 It was late afternoon and the only thing that brightens up in her home is the light from fire wood. She was just lying on her bed or 'papag' waiting for the rice to be cooked. There is nothing in her small house but her pillows, bed sheets, 4 pieces of plates, 3 pieces of spoon and 2 pieces of fork, 3 bottles of coffee, milk and sugar, and 5 slices of bread hanging on the wall.
A young man came and checked if she has already eaten her dinner or if she has something to eat. The 81 year old woman who is a resident of Golden Ribbon, Butuan City, is Rosita Trinidad. She had never been married because she was the bread winner in her family then. Instead, she adopted a baby boy from one of her siblings named Theresa.
She raised, nurtured and loved the baby boy as her own child and named him Daven Trinidad. He is now a young man and a father at the age of 19.
"I was only 3 months old when Mama Rosita took me from my biological parents.  Nanay Rosita is a good mother to me. Growing up with her is a happy moment that's worth keeping for. She sent me to school even if she only sold junk foods in the Canteen of West Central Elementary School. She prioritized my needs even if I know that she has nothing left for herself. I am so thankful that Mama gave me another chance to live and I am so proud that she is my mother," Daven expressed with tears.
"Karon nga tigulang na si Mama, ako na ang ga alaga sa iyaha. Gustuhon ko man na ihatag tanan ang iyahang panginahanglanon, tungod wla koy permanenteng trabaho dili gyud na ko mahatag tanan(Now that she's old, I am the one taking good care of her. I want to provide her needs but because I don't have a permanent job, I cannot fully to do so)," he added.
"Nalipay ko na akoang Nanay na survey katong tuig 2009 ug naapil ug lista sa NHTSPR. Tungod ato maka palit gihapon siya ug iyahang mga panginahanglan (I am so happy that my mother was surveyed in the year 2009 by NHTSPR and because of that she is still able to buy her needs)," grateful Daven shared.
As a social protection agency, the Department of Social Welfare and Development (DSWD) through NHTSPR is leading the process in identifying the poor. The NHTSPR also gives importance to our elderly Filipinos.
Through the household assessment, there were 59,132 senior citizens who identified as poor in the region. DSWD also initiated the implementation of the Social Pension for indigent Senior Citizens which started in January 2011.
Among the 59, 132 senior citizens identified as poor, only 5, 230 social pension beneficiaries, including Nanay Rosita, have availed the social protection programs.
Nanay Rosita is one of those who received cash grants worth Php 1,500.00 given quarterly. This cash grant is a big help to the beneficiaries to buy their basic needs like milk, sugar, rice, bread and coffee.
 Yearly, we are celebrating the Elderly Filipino Week every October and DSWD joins this event in giving importance to our elders. This year the theme: "Nakatatanda: Pagtulungang Isulong Benepisyo at Karapatan Tungo sa Maginhawa at Masayang Pamayanan."