Butuan City – About three hundred ten (310) program participants also known as beneficiaries joined the first Sustainable Livelihood Program (SLP) forum of the Department of Social Welfare and Development (DSWD) held in the convention centers here in Caraga region.
Program participants engaged themselves with discussions about the goals and objectives of SLP and the importance of the Social Enterprise as presented by External Relations Officer, Daisy C. Mala.
Marvin L. Tubo, PAMANA focal conducted an activity entitled Benes in Action: Self –Sufficiency, a Reality. The participants had to answer Economic Sufficiency and Social Adequacy with corresponding indicators. At the end of the activity, they were able to assess their economic status on where they are right now in their level of well-being like survival, subsistence and self-sufficiency.
Among the beneficiaries present was Anecita B. Daluran SLP Secretary from Cagdianao, Province of Dinagat Islands. "Na surprise gyud ko 1.9 lang ang akoang score, ug maskig naa nako regular income kining babuyan sa survival lng diay gyapon ko. Nakat-unan pud na ko nga kita ra gyud diay gihapon maka sulbar sa atoang ka pobrehon ug ang SLP supporta ra gyud sya sa umaabot so trabaho gyud ta hantud naa pa ang SLP nga mutabang (I was surprised by the result, my score is only 1.9. I realized that even though I have regular income which is piggery. I still belong in survival level of well-being. I also learned that no one can help us to get out in this poverty but ourselves. SLP is only our support system to be successful in our chosen field. So, we should work hard while SLP is still with us and is willing to help us).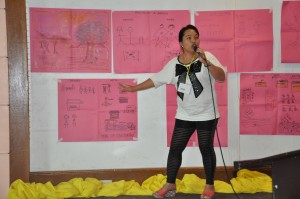 Moreover, Catherine Grace E. Lajos, SLP Training Officer gave an exercise called Obra Maestra where the beneficiaries were able to differentiate what life then before SLP came. All of them realized that SLP contributed a big impact in touching their lives. They were thought to develop their skills and were provided a livelihood program in helping them to uplift their lives and be productive in the community.
During his talk, SLP Head Roy R. Serdeña, motivated the recipients to have the spirit of collaboration.
"SLP is very positive that we will soar high in 2015. Poor households will become less in the coming years because SLP has a vital role in helping the poor to reach the self-sufficiency of well-being. Together let us fly like geese, soar like an eagle and work like ants," he added.
Director Minda B. Brigoli gave an inspirational message. "You are no longer the recipients of the program but as partners in this whole process," she emphasized. "Trust your capacity because every man has its own potential. DSWD through SLP will assist you to attain the self-sufficiency well-being level as long as we will continue working faithfully," Dir. Brigoli added.
The 310 participants who attended the activity included the Pantawid Pamilya sets 1 and 2, City/Municipal Social Welfare Development Officers (MSWDOs), Project Development Officers (PDOs) and Local PDO SLP counterparts.
The Sustainable Livelihood Program is a community-based capacity building program aimed at improving the participants' socio-economic status. It supports micro-enterprises to become organizationally and economically viable and it also links participants to employment opportunities. ### Social Marketing Unit (Maria Cecilia N. Sosas)