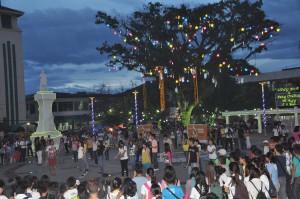 BUTUAN CITY- In view of the celebration of the international day against human trafficking on December 12, 2013, the Department of Social Welfare and Development (DSWD) Caraga initiated a flash mob activity on December 11, 2013 to promote the campaign anti-trafficking in person campaign of the government.
Participated by forty-six (46) staff of the Office, the activity included a dance performance and distribution of  advocacy stickers, fans and flyers to the people who were drawn in during the dance number in selected areas such as Bancasi Airport, Butuan City Hall, Guingona Park, and Robinsons Supermarket.
DSWD is one of the government agencies who are in the frontline in getting rid of human trafficking.
Conducting flash mobs is a promotion strategy used by DSWD to communicate effectively its advocacies.
Human trafficking is a serious crime and a serious violation of human rights. It is known as the trade in humans, most commonly for the purpose of sexual slavery, forced labor or for human organ sale.
Recently, the Philippines is under Tier 2 ranking on trafficking in persons.  It means that in the country, there are fewer advocacies, less conviction and less services or interventions for the said issue.
The theme for this year's celebration is "Wakasan ang human trapiking, Ito'y ating tungkulin".
The public plays a vital role in eradicating human trafficking by reporting immediately someone who is a possible victim of illegal recruitment, kidnapping or forcing for sexual abuse and human organ sale, to DSWD through 342-5619 or 09189473954 or to the nearest Local Social Welfare Office or Police Station.### (Eunice G. Montaos/Social Marketing Unit/DSWD Caraga)