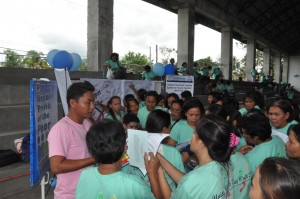 Butuan City – The National Household Targeting System for Poverty Reduction (NHTS-PR) of the Department of Social Welfare and Development (DSWD) advocated its new brand name Listahanan on December 17, 2013.
In the activity called Lakat Caraga, Iban Kita! conducted by Pantawid Pamilyang Pilipino Program, Listahanan was introduced to the 250 Pantawid Pamilya beneficiaries, some partner agencies and DSWD staff. They expressed their support by way of signing the tarpaulin booth which states "I support Listahanan".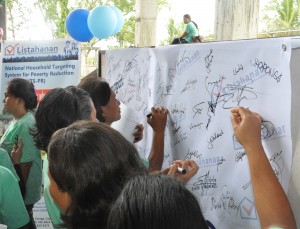 Regional Director Minda B. Brigoli emphasized the importance of the Project. "Let's support Listahanan especially in the conduct of second round household assessment that may happen next year, because this is a tool that will identify where we are in our status of well-being," Dir. Brigoli said.
 500 Flyers and 20 Regional Profile of the Poor for information campaigns were also distributed by the NHTU staff headed by Nerisa T. Murih, Deputy Regional Project Manager of Listahanan and assisted by Regional Focal Person Dante S. Rosales.
To have a strong recall of the new brand name, NHTU staff made a trick which was the pick me questions. It was all about the new brand name, new tagline and their description of the new logo. Freebies like candies were then given to the attendees.
In October 2012, NHTS-PR conducted communication audit in selected coverage areas. The results of the audit showed that respondents know about the NHTS-PR but lacked understanding of its operations and objectives. Among other findings is the lack of appeal and recall of its name and logo.
This prompted the Project to rebrand. In May 2013, a workshop was conducted which convened the communications' group of the Department to conceptualized and design a brand (tagline, name and logo) that encapsulates the Project and will capture the interest of its varied audiences. This brought forth the brand "Listahanan."
The brand name "Listahanan"   is a combination of "listahan" (list) and "tahanan" (house/home). The name and tagline, "Talaan ng Pamilyang Nangangailangan" clearly defines the Project as an initiative to establish an organized list of poor families in need of assistance for social protection programs.
The logo emphasizes the role of the Project as a targeting tool for social protection. It uses a checkmark which is appreciated universally as a symbol for accuracy and correctness to describe the data that the Project generates. Instead of a square, the tick box is shaped as a house to convey that it is through the household assessment that poor families are identified.
The design which uses simple lines and font-type signifies clear-cut and clarity of the Project's objective which is to provide reliable data. It uses the colors dark blue and red which are derived from the palette of its implementing agency –the DSWD.
Listahanan is an information management system that identifies who and where the poor are in the country. ### Social Marketing Unit (Maria Cecilia N. Sosas).