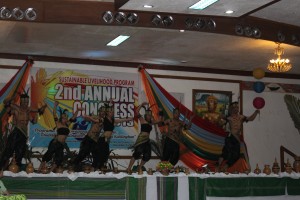 Butuan City – It's a merry celebration for the active program participants of the Sustainable Livelihood Program (SLP) of the Department of Social Welfare and Development (DSWD) during the 2nd Annual Congress at Balanghai Hotel on December 09, 2013.
Showcasing of products such as varieties of rice, fruits and vegetables, native delicacies, sea foods (lobsters, squid, crabs and sea weeds), coco wine or nipa wine and crafts (accessories, slippers, bags, baskets and bamboo vase) were the highlights of this event.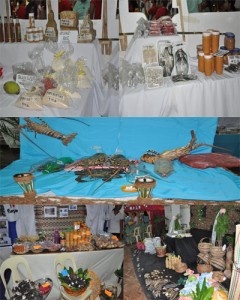 Everyone had a great time for series of talents were showed by the Project Development Officers (PDOs) of SLP in their captivating performances. The Agusan del Sur team had a groovy dancing presentation. Three groups were very creative in their original composed jingle. Agusan del Norte sung a song entitled "SLP tubag sa kalisdan" while Surigao del Norte sung "SLP sa Surigao" in the tune of "Surigao-Surigao" a local song and "Tayo tayo rin" of Surigao del Sur representatives. Also, PDOs of the Province of Dinagat Islands were very artistic in their story telling production number about the history of the province.
"Grabeh gyud ako kalipay nga naka apil ko aning 2nd annual congress kay first time nako ni. Unya na enjoy nako, nahalinan pa gyud mi sa amoang mga products. It's more fun in SLP (I am so happy that I was able to join the 2nd annual congress. Not only did I enjoy but also I earned a lot from my products. It's more fun in SLP)," testified Ma. Cecilia C. Serrano, program participant of Agusan del Norte.
The one-day product exposure made a big shot to these program participants. They did not only learn new experiences but they earned as well.  Now, Agusan del Norte earned Php 5, 362.00, Agusan del Sur grossed Php 5, 102.00, Surigao del Norte got Php 5, 253.00, a total of Php 3, 500.00 from Surigao del Sur and Province of Dinagat Islands income was Php 4, 175.00.
The grand year-end activity mesmerized the attendees with the fabulous opening salvo which is "Tiniktikan" a production originally composed and conceptualized by Angelito Aclo, SLP staff. Awards for best booth, Peoples' choice, parlor games and lots of prizes were then given.  Surigao del Norte got the best booth and Surigao del Sur gained the Peoples' choice award.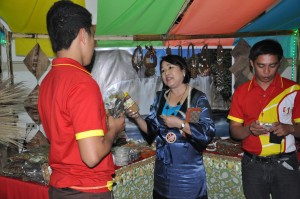 Director Minda B. Brigoli, who also graced the event, cannot hide her feelings of appreciation. In fact, she visited all the booths and bought some products displayed.
"I am happy and I love what you are doing. I am proud that you belong to this program of DSWD. SLP will lead you to improve the socio-economic status of your lives and families," Dir. Brigoli said.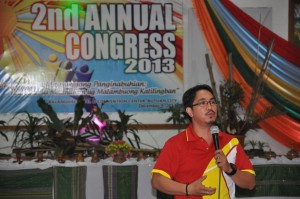 SLP Head Roy Serdeña, was more than thankful for the success of the event. "Thank you everyone for your help and support and most of all to God who is the main reason that this activity was made possible and successful," Serdeña expressed.
Deputy National Project Manager Amada D. Pomaras together with Anna Raymundo Information Officer of SLP witnessed the extra bonanza celebration of the 2nd annual congress here in Caraga region. Pomaras, astonished by this festivity, acknowledged the efforts and accomplishment of the program.
"I am so glad that you invited us and witnessed this wonderful event. Let us continue to work hand in hand to produce more products, enhance our crafts and promote these to the market so that our income will increase and we will attain self-sufficiency status of well-being," Pomaras said.
The annual SLP congress aims to achieve economic and social benefits for the participants. Through the activity, they will be given the chance to meet their fellow program participants, to mingle with many people from different walks of life and to enhance their products by observing those of the others. In addition, this will help them to market their products to the public and way to be possible supplier of raw materials for the business people.
The theme of this year's SLP Congress was "Programa sa Mauswagong Panginabuhian: Tinubdan sa Malinawon ug Malambuong Katilingban, SLP made this event successful. ### Social Marketing Unit (Maria Cecilia N. Sosas)