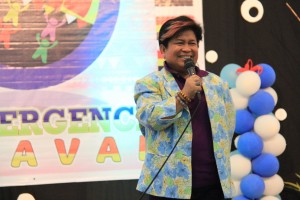 In response to President P- noy's objective in reducing poverty and improving the quality of life of poor Filipinos, DSWD Sec. Corazon "Dinky" Juliano Soliman, graced Caraga for the convergence roadshow before the more than 600 Field Office staff and field workers of the Department all over the region.
The Convergence Roadshow focused on the giving of the Secretary's directives for CY 2014 to all the Field Office staff.
The Secretary discussed the topic on " Pagtugon sa Panibagong Panahon" wherein the core challenge is to address the situation of poverty that has been intensified by the new normal. The new normal is reflective on the changes of the weather pattern of which natural events/ threats are becoming bigger, stronger, and harder.
She directed the field staff to increase the people's resiliency against poverty and disasters; to use the "laser sharp" precision strategy directing all the programs and services to the neediest families using the LISTAHANAN; to review convergence of Conditional Cash Transfer (CCT), Community Driven Development (CDD), and Sustainable Livelihood Program ( SLP ) and other DSWD programs.
She exposed the 3 strategic goals of DSWD (1) to reach the 2.3M Pantawid Families to self –  sufficiency by 2016; (2) to increase the number of NHTS PR identified poor families covered by at least 2 SWD programs from 3.0 M to 5.2 M; and (3) to increase the number of provinces with majority of their municipalities/ cities having a fully – functioning LSWDO from 0 to 40 by 2016.
She said that in order to achieve these goals, DSWD programs should be packaged as one. These programs include: Pantawid Pamilyang Pilipino Program, National Community Criven Development Program ( NCDDP), Sustainable Livelihood Program ( SLP), Social Pension ( SP), Supplementary Feeding ( SF), Disaster Risk Reduction Management ( DRRM), Assistance to Individuals in Crisis Situations ( AICS), PAMANA and Grassroots Participatory Budgeting Process ( GPBP ).
Thus, there is a need to revisit and improve the present delivery structures, systems and strategies of the Department.
As for the new order, she further directed for the institutionalizing enhanced capacities and energized commitments among the field workers.
In a dialogue with the staffs, the Secretary listened intently and attentively to all the queries and testimonies aired. She highlighted on the extension of the age coverage among the Pantawid beneficiaries which is to include the 15 – 18 y.o. children in order for them to finish high school. She underscored the hard work that the Caraga staff extended to the Department thus, contractual positions for employees will commence on April. Contractual and regular positions will be included in the RAT plan.
Issues regarding the partnership in the Civil Society Organization were addressed. She assured that the engagement of the CSOs especially with partnerships on the Family Development Sessions (FDS) and SLP will be improved and developed.
Sec. Dinky highlighted ended her presentation with the phrase of Bono on Nelson Mandela that, " Love can do a better Job." ###( TDB/ Social Marketing Unit/ FO Caraga)