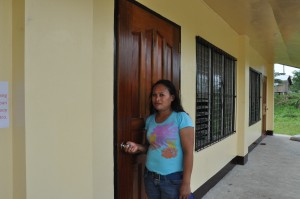 Sibagat, Agusan del Sur- Life gives us two options- either to exist or to live.
While one is patiently living anchored on the stereotype set by her society, another is fiercely proving that she can do more than what she's expected and set to do. Charito Ybanez Valdez, 36, a mother of four (4), tried the latter.
She grew up with the orientation of what every wife and mother usually does- washing plates and clothes, and taking care of the children and husband. And then, she got married and had experienced such responsibilities. But even before, Charito had always thought of doing activities other than her tasks at home.
Until in the course of her life, an anti-poverty special project of the Department of Social Welfare and Development (DSWD) was introduced in their barangay. This is the Kapit-Bisig Laban sa Kahirapan- Comprehensive and Integrated Delivery of Social Services (Kalahi-CIDSS) which uses the Community Driven Development (CDD) approach. Since the Project encourages members of the community to participate in sub-project implementation, she got interested to join.
"Nag-desisyon ko nga mag-volunteer aron maka-tisting pud ko ug buluhaton nga lahi ra sa akong pirmi na nga ginabuhat sa balay. Gusto pud ko nga makatabang sa among barangay (I decided to volunteer so that I can try a work other than my usual tasks at tome. I also would want to help our barangay)." Charito shared.
At first, she was very shy during the assemblies conducted by the Project "Maulawon jud kaayo ko ug wala jud ko kumpyansa sa akong kaugalingon kay gamay ra akong kahibalo (I am really shy and I don't have the confidence in myself because I only have a handful of knowledge in many things)," she narrated.
Also, Eddie, her husband who is a farmer, discouraged her from joining the said activities. For him, it will just be a waste of time.  "Wala kay makuha anang pag-volunteer nimo, maayo pa nga diri ra ka sa balay, mag-atiman sa atong panimalay (You will not get anything from being a volunteer; it would be better if you stay in the house and take care of our household)," he reacted when she shared her interest in volunteering for a community project.
However, having learned that she will undergo trainings in sub-project implementation when she joins Kalahi-CIDSS, she patiently asked Eddie's permission. She found this an opportunity to welcome a new experience for personal growth and development. It was not that easy for her to convince her husband. "Akoa siya gi-ingnan nga ang kani nga oportunindad dili ni pirmi ug usahay lang (I told him that this opportunity does not always come.", Charito opened. "Dili man nato mahimo nga maghatag ug kwarta para makapatukod ug mahal nga proyekto, naa ra man ta mabuhat, mao na ang mag-serbisyo (We cannot afford to contribute finances to build a high cost project, but we can do something, that is, service)," she emphasized to Eddie.
Eventually, she was able to convince him with the promise that her responsibilities at home will not be jeopardized. By then, her journey of empowerment and transformation commenced and her life had never been the same.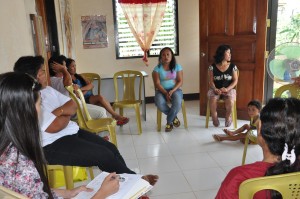 An unexpected position
Silent and shy, not many can say that Charito can and will be a productive leader. Even she herself hasn't even thought about being one. The nomination of her fellow volunteers for her to be the Barangay Sub-project Management Committee (BSPMC) chairperson came as a surprise.
"Wala gyud ko nag-expect nga ako ilang pilion nga mahimong BSPMC. Ga-hilomhilom ra man tawon ko atong mga asembliya namo. (I didn't expect that they will choose me to be the BSPMC. I was just so silent during our assemblies)," she shared.
"Tungod daw kay naka-apil ko sa una sa usa ka proyekto nga na-implementar pinaagi sa mga kooperatiba sa among barangay unya nakita nila nga masaligan ko mao nga ako ilang gi-rekomenda (Since I once served as a member in an implementation of project in our barangay through some cooperatives and they observed that I am trustworthy that is why they recommended me)," she added.
Anxious but determined, Charito decided to accept the responsibility. She knew it will not be an easy way, but there are things in life which are learned the hard way.
Along the journey
It was in 2007 that the first sub-project was implemented in Brgy. Tag-oyango which was a cable foot bridge under the Poder y Prosperidad dela Comunidad Project (Empowerment and Development of Communities) or PODER. As the BSPMC, she initiated in overseeing the whole implementation. Her expectations of the hardships to be encountered were actually doubled with what she really experienced during the implementation of the sub-project.
During her involvement in the Project, she had undergone sleepless nights every time the suppliers will be delayed in delivering necessary materials for the construction of the Projects. Even though it was beyond her control, the blame was always pointed to her, since she was the leader. "Nah, ngano lagi babae inyo gipili nga BSPMC, langan kaayo, hinay mudiskarte (Why is it that you chose a female BSPMC, many are delayed because she is very slow in action)," some members of the community grumbled. Of course, comments like that struck and wearied Charito and she was tempted to give up the position. However, she realized that giving up is not a wise option, instead, she pushed herself and did her best to prove that even though she's a woman, a weakling in the eyes of many, the Project will be successfully realized.
There were also times that she will come home late because of their meetings and her husband scolds her because of it and always reminds about her promise not to sacrifice her time for her household. To manage her time as a mother of four (4) and a BSPMC was very difficult for her to handle. But she pushed through nonetheless. 
When the sub-projects were already put up in their community, her husband finally saw for himself the statue of all her efforts. "Saksi man jud akong bana sa tanan nako kahago ug sakripisyo mahuman lang jud ang proyekto (My husband was really a witness of all my hard works and sacrifices for the project to be completed)," she emotionally shared.
"Ana pa gani siya nga sa akong pagtutok sa proyekto labaw pa daw nako ang nag-kapitan o nag-kagawad (He even said that in my concentration of the projects, I'm being more than the barangay captains and councilors)," Charito added.
"Mao nga pagkatukod jud sa maong bridge, proud nagud dayon akong bana sa akoa nga ako ang BSPMC ato nga mga proyekto, char! (My husband was then very proud that I was the BSPMC of those projects, char!)," she happily expressed.
With her exposure in volunteerism, Charito continued her service in their barangay as a bookkeeper. She said that through the trainings she underwent in Kalahi-CIDSS, she already have the knowledge about the task, and in so doing, she was just applying what she has learned.
During 2010, Tag-oyango was again blessed with another sub-project which is a health station under the same modality. She was again nominated by her fellow volunteers because they appreciated her leadership and patience during the first implementation. Gladly, it was successfully implemented.
During the interview time, sometime in November 2013, the construction of two-unit classroom sub-project under the Kalahi-CIDSS-AusAID modality was almost completed and Charito, who is again the BSPMC of the Project, was very excited that another sub-project is built to aid their community's needs of basic social protection and services, which the aforementioned sub-projects served.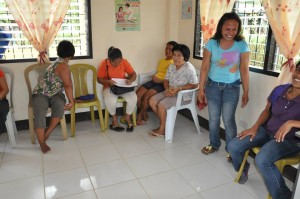 Significant gains and changes
It was her confidence that was mainly developed in her experience as BSPMC. She shared that she used to be very shy and insecure. "Tungod sa Kalahi-CIDSS, nibaga akong nawong ug dili na ko maulaw muatubang ug tao (Because of Kalahi-CIDSS, I am no more thin-skinned and shy in approaching and conversing with other people)," she testified. "Pinaagi pud sa proyekto akong nahimaymay nga naa ra man pud diay ko talent ug ikabuga (Through the Project, I learned that I have hidden talents and I have something to show)," she enthusiastically added. Charito also mentioned that not only did her community experience improvement, but she also underwent the same. She was a different person back then.
Nonetheless, not only one project was successfully implemented under her leadership, but three in toto. "Bisan dili ko kagawad o kapitan, naa proyekto nga nakatabang ko ug patukod ug proud kayo ko ana (Even though I am not a barangay official, there are projects from which I contributed to be built),"she commented.
Though at first glance, it is not obvious and nobody would think of the lowly Charito as a leader, however, she was able to lead the implementation of three huge projects in her community. Despite the fact that she only graduated high school, still she proved that she can do something for her community.
"Dako akong kalipay nga adunay proyekto sama ani nga wala naghikaw nga makaapil mi nga mga babae (I'm very happy that there is a project that included women to participate)," grateful Charito said. "Ang akong mga kaagi sa Kalahi-CIDSS dili jud nako makalimtan. Kung unsa na ko karon, dako ang akong naambag sa proyekto (I will never forget my experiences in Kalahi-CIDSS. The Project contributed much in the person that I am now), she expressed."
In participation and representation in the society, privileges used to be closed doors for women. But with the gender initiatives of Kalahi-CIDSS, some access to opportunities were opened for them.### (EGM/Social Marketing Unit/DSWD Field Office Caraga)
***To all the women who volunteered for Kalahi-CIDSS Projects and took part in the fruition of development in their communities, THIS IS FOR YOU. Happy Women's Month!!!