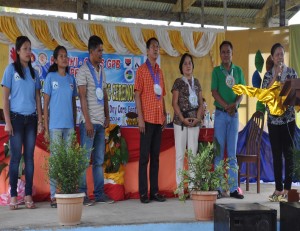 Surigao del Sur- The Department of Social Welfare and Development (DSWD) Caraga turned the day care center (DCC) project over to the community recipients in Brgy. Bahi, Surigao del Sur on March 18, 2014.
The DCC project, implemented using the Community- Driven Development (CDD) approach of the Kapit-Bisig Laban sa Kahirapan- Comprehensive and Integrated Delivery of Social Services (Kalahi-CIDSS), is funded by the Grassroots Participatory Budgeting Process (GPBP).
The ribbon cutting and the turn-over ceremony of this first to be inaugurated Kalahi-CIDSS GPBP project in the region were spearheaded by Irene Malong, National Project Coordinator for GPBP-CDD projects, Elsa Montemor, Regional Project Coordinator of Kalahi-CIDSS, Engr. Macrino Sumagang, Regional Community Infrastructure Specialist, May Navidad Salinas, Provincial Social Welfare and Development Officer of SdS, Hon. Joey Pama, Vice Mayor of Barobo, and Hon. Alilo Luarez, Punong Barangay of Bahi.
Implemented within March 2013 to February 2014, including the preparatory activities, the DCC project costs Php 774,058.00 which summed the Php 700,000.00 GPBP grant and the Php 74,058.00 Local Cash Counterpart (LCC) of the local government unit (LGU).
A total of 4.7 M GPBP fund is allotted to Barobo for project implementation in the seven (7) targeted barangays namely Bahi, Amaga, Javier, San Vicente, Cabacungan, Causwagan and Poblacion.
Majority of the barangays implemented a day care center while only Poblacion implemented a food processing and women's product display center.
To date, all the GPBP projects in the municipality had already been completed and the other barangays are set to inaugurate in the first week of April 2014.
Guided by the principles of convergence, participation and empowerment, GPBP formerly Bottom-Up-Budgeting (BUB), aims to achieve community empowerment by encouraging citizens to participate in decision-making in their community by voicing their needs to the government and determining what projects are responsive to their needs.
The residents of Bahi were very thankful to the national and local government for this realized project in their barangay. "Dako akong pasalamat nga dili lamang day care center and amo nadawat kundili nahatagan pud mi ug kagahum pinaagi aning GPBP project gamit ang Kalahi-CIDSS nga proseso (I am very thankful that we did not only receive a day care center but we were also given empowerment through this GPBP using Kalahi-CIDSS process)," expressed Josefina Cabido, Barangay Project Management Committee (BPMC) chairperson in Bahi. ###(Eunice G. Montaos/Social Marketing Unit/DSWD Field Office Caraga)