La Paz, Agusan del Sur- Four (4) major activities were conducted today, March 10, 2014, by the Department of Social Welfare and Development (DSWD) Caraga and the local government unit (LGU) of La Paz, at Demo Farm, Training Center in the municipality.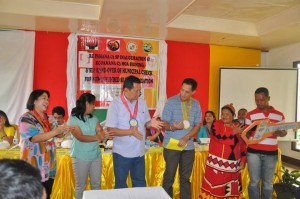 Inauguration of sub-projects
Fifteen (15) sub-projects, amounting to Php 5,015,615.00, under DSWD's Kapit Bisig Laban sa Kahirapan- Comprehensive and Integrated Delivery of Social Services (Kalahi-CIDSS) PAyapa at MAsaganang PamayaNAn (PAMANA) cycle 2 implementation, were handed over to the community recipients.
The following are the completed and inaugurated sub-projects: 1 unit multi-purpose building in Angeles and Valentina, 13 units rain water harvesting in Bataan, 1 solar dryer in Comota, 225 linear meter concrete pathway in Kasapa, farm thresher, corn sheller, water pump, and 3 mud boats in Langasian, Panangagan, San Patricio, Halapitan and Lydia, 14 sets solar power streetlights in Osmena Sr., Villa Paz and Sagunto, and 130 m drainage canal in Poblacion and Sabang Adgawan.
Kalahi-CIDSS PAMANA, funded by the Office of the Presidential Adviser on Peace Process (OPAPP), released a grant amounting to Php 4,164,461.70 while LGU La Paz delivered a total of Php 851,154.20 as its local cash counterpart (LCC), for the Project completion.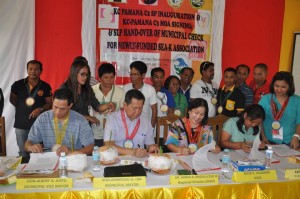 MOA signing
A Memorandum of Agreement (MOA) was also signed by DSWD Caraga and LGU La Paz for the Cycle 3 implementation of Kalahi-CIDSS PAMANA Project with signees Regional Director Minda Brigoli, Honorable Mayor Ambrosio Lim, Punong Barangay Representative Michael Lim and Provincial Office Representative Razel Montemor.
For 2014 implementation, KC-PAMANA will grant Php 4,500,000.00 while LGU La Paz has committed a total LCC of Php 2,548,887.00.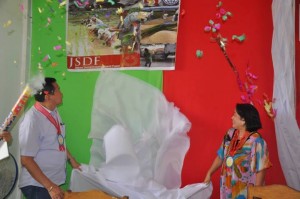 JSDF Project Launching
Another project which is the Japan Social Development Fund (JSDF) Community Driven Enterprise Development (CDED) was also launched during the activity. It is a community-based and market-driven, resource-based capacity building program that seeks to improve the quality of living through micro, small and medium community enterprises.
 The Project is anchored on the following objectives: to increase the income of, at least, 20% of the poor residents in the target communities by at least 20 %; to increase access to financial services by the poor residents in the target communities by at least 30%; to develop one local product linked to a marketing in each municipality; and, to facilitate in the preparation of an annual local economic plan supporting that product/enterprise. 
La Paz is lucky to be chosen as one of the six (6) target areas of the Project in the whole country. The indicative amount of the grant is Php 2, 500, 000.00 which will be distributed to five (5) barangays with Php 500,000.00 allocation each.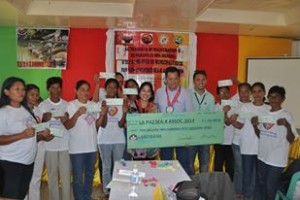 Hand-over of checks
Eleven (11) checks, amounting to Php 2, 250, 000.00, were also distributed to the Sustainable Livelihood Program beneficiaries. The newly funded Self Employment Assistance sa Kaunlaran (SEA K) Associations namely Babies Breath, Banda, Bellflower, Bromeliads, Cadena de Amor, Dancing Lady, Dona Aurora, Iris, Lilac, Waling-Waling and Yellowbell were the groups of the 250 program participants who received the cash assistance.
The activity ended with RD Brigoli's sharing of words to inspire. "This is actually our medals on how we worked very hard last year. It's not that easy to work on these types of projects but the quality of how it was implemented in 2013 will really spell how we should do it in 2014," she commended.
"And so, we must widen our understanding of our situations and strengthen our beliefs in our capabilities. Because in the near future, everything will be stronger and bolder challenges to face- not only in the implementation of the programs but in responding to the needs of the times," she added. ###(EGM/Social Marketing Unit/DSWD FO Caraga)