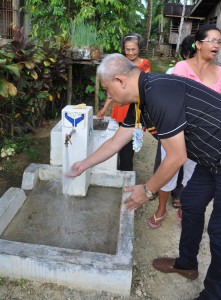 In his visit to Brgy.Villa Verde, Tagbina, Surigao del Sur on April 23, 2014, Honorable Governor Johnny T. Pimentel checks the functionality of the tap water stands.
These sub-projects are implemented by community volunteers through the funding assistance of the Kalahi-CIDSS Makamasang Tugon and PAMANA Cycle 1 project and counterparts from the local government unit and the community.
He expresses appreciation that the tap water stands which were implemented in 2011 are still operational and usable for the villagers in the said barangay up to this date.
Gov. Pimentel acknowledges that the feeling of ownership, integral to the Community-Driven Development (CDD) approach of Kalahi-CIDSS, encourages the community recipients to take responsibility of the sub-project's sustainability.